The end of my time at Sterling College is fast approaching, and it is at this time that one must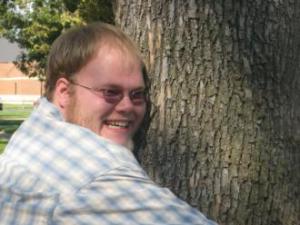 look back on the time spent and ask the most important question; "What have I learned?" As I contemplate the vast number of facts and ideas that I have accumulated in my time here, I see one common denominator -- people. Everything we do, whether it be learning the history of the Mongolians, spending time in the cafeteria, or fighting social injustice in Uganda, is directly, or indirectly, related to other people. This is the basis for this necessary capstone class, Service Seminar.
I am a developing psychologist. This means that I have a passion for others and want to spend time with and interact with people. What better way to do this than through service? On a personal level, I get fulfillment from these interactions. I want to be the one to directly help others. Like Ray Fowler in the case of Wyatt vs. Stickney, I want to be the advocate for the less fortunate and the forgotten. The only way to do this is to seek out injustice in the dark and desperate places of the earth. I must intentionally search and learn of the problems in the world, because evil is not always front-page news. Even as I type this, people go hungry; children are sold into slavery, and parents die from preventable diseases. Now that I have been exposed to the injustice, there is no way that I can stand idly by and listen to their cries.
Biblically, we are called to be servants. Sterling College advocates servant-leadership as a cornerstone of liberal education. We are communal by nature, and thus we must take care of that community of which we are part. Dietrich Bonhoeffer said that he who is not in community should beware being alone. By design, humanity is supposed to live together and help one another. Why should I have excess when there are those with none? Christ commanded his people to love God with all their hearts and love each other as He has loved us. Is there any greater act of love than selfless service?
Also, as an American, I feel that I have been blessed with a wonderful democratic system and I should take the responsibility that accompanies it. We live in a country where the people are in charge and the people can make a difference. Only through experience can we gain awareness, and only through awareness can we elicit change. We must change, because the wars of this generation will be those of social inequality and poverty, not gold or territory.
Aside from the academic understanding and the social issues, I have convictions toward service that go beyond what I can express here. So, I believe the question is not really why should I perform service projects, because given what I now know there is no way to keep me from it. The true question is how do I get others to join me in acts of service? How does one instill desire into people unaware of the needs? That is the true goal, not only to help but educate as well.