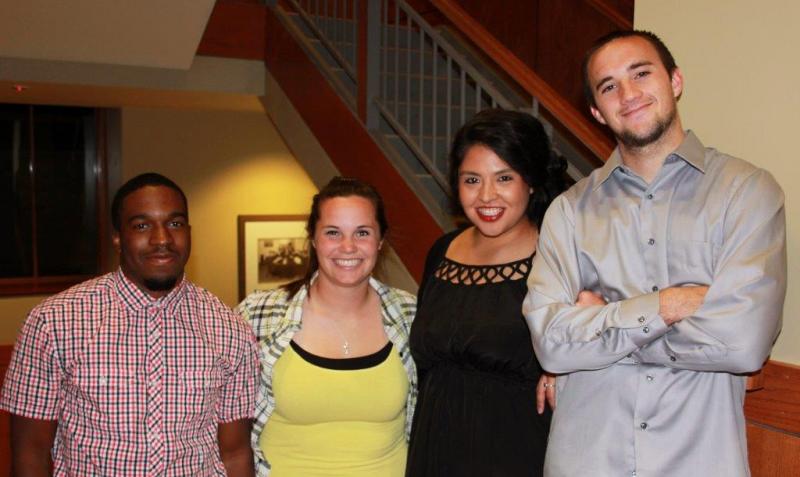 John Summitt--Douglas Hall Resident Director

Years worked at SC: The 2013/2014 school year will be my first at Sterling College, and I am excited and prepared to see the Lord's goodness at work in the Halls of Douglas!!

Hometown: Kansas City, MO

College attended and degree earned: Southwest Baptist University, Bolivar, MO, B.A. Christian Ministry; Emphasis: Christian Missions, Minor: Business Administration

Best residence life memory from my college days: I couldn't possibly take it down to one!! I have some great memories and ridiculous stories, but the common thread in them all are friends. I have friends from my days in the dorms that I will have forever, and I couldn't be more grateful for them. My life has definitely been shaped by those great brothers and sisters of my college experience. I definitely hope to encourage that kind of close relationship in my time at SC. But some stories might include: a 200-person dance to Sir Mix-A-Lot in the dorm, playing cards with Turkish mafia members in London, ninjas, and sharing the Gospel in some crazy spots!!

Favorite way to spend a Saturday: If I could choose, I would gather my wife, my daughter, and all the friends I could invite, have breakfast outdoors, early & over a fire with gallons of hot coffee for everyone. Then, spend the day with friends and family with access to boats and cabins near the water—with time spent laughing, fishing, playing games, enjoying good food & drink, and conversing about Jesus and the good things in life.

Best thing about my job: Living the good life alongside students in service to the Kingdom.

What the residents in my hall can expect: As your Resident Director, I hope to share in life and relationship with you while you are here at Sterling. I am here to lead, to serve, to walk in obedience to the Lord, and to enjoy life at Sterling with you. It is my hope that the Halls of Douglas will be encouraging places where we can live life together, learn together, serve together, and be a distinctly positive presence on campus, in the community of Sterling, and out into the world. My home and my family are here for you.

Also, my wife, Tiffany, and I are expecting our first child right about the time the 2013/2014 school year starts (August 21st). Her name is Emily Elise, and we hope you will love her as much as we do!!

When you get to Sterling College, let's get to know one another!!

Erica Nua--Douglas Women's Resident Assistant

Year: Senior

Major: Elementary Education


Hometown: Palmdale, CA


Favorite class: Spirituality and Prayer with John Harding because I was able to grow so much in my faith, and I got the opportunity to meet and make friends with people that were at different places in their walks with Jesus.

What is the thing you love most about living in your residence hall? I love being able to spend time with my friends whenever I want to. If you want to hang out with someone, you don't have to drive anywhere. It's a short walk down the hall or to a different building, and you are there.

What you're all about: I am a family kind of gal. I have a huge family and love spending time with them. Family is more than blood to me, though, and going to school here has shown me exactly how many brothers, sisters, and cousins I really have. I played soccer here for two years, and they were amazing years. I love meeting new people, making friends, playing games, and hanging out.

Nicole Navarro--Douglas Women's Resident Assistant

Year: Junior

Major: Athletic Training

Hometown: Covina, CA

Favorite class: Nutrition with Chris Brown and Swimming with Dorothy Kempf! I learned to swim in a week!

What is the thing you love most about living in your residence hall? I LOVE my bathroom! My freshman and sophomore years, I lived at the end of the hall and it was always scary and dark walking to the bathroom at night. And it didn't help that I am scared of the dark!

What you're all about: I'm all about educating students on health and fitness and helping them get healthy! This year I started my journey to get healthy and realized that if I did not get healthy and change my life, how was I expected to live longer and serve the Lord? If we all just change just one little thing, we will be able to serve the Lord that much longer! I love to meet new people, I love to watch Spongebob, and Mexican food is my weakness. I love nail polishes--check out my collection! I'm not a fan of anything grape. If I could have my own nail polish named after me, it would be NixxiNix! It would be a fun sparkly coral shade that has a mixed in topcoat. We should hang out!

BK Hodge-Douglas Men's Resident Assistant
Year: Senior


Major: Athletic Training with a minor in biology


Hometown: Munich, Germany


Favorite class: Genetics with Dr. Hong


What is the thing you love most about living in your residence hall? I love the fact that it is the closest step to living on your own after college.


What you're all about: I'm all about learning to love God more completely through how I live my life, scoring lots and lots of goals in soccer, and becoming a doctor/pro video gamer.

Eddie Adesodun-Douglas Men's Resident Assistant

Year: Senior

Major: Graphic Design

Hometown: Mesquite, TX

Favorite class: Any Dr. Kwa class

What is the thing you love most about living in your residence hall? I get my own restroom!

What you're all about: Having fun and helping others.