Promote, Encourage, Serve, Build
Mission Statement:
The mission of the English Blend is to promote writing on the Sterling College campus through meetings and events centered around inspiring creativity, to encourage writers by providing feedback and critique circles in order to become more effective writers, to serve writers by being a resource that helps writers achieve publication and publicity, and to build a community of writers.
The English Blend is an organization that offers the Sterling community with a creative outlet that promotes the arts and literature. The club provides writers with weekly meetings focused on peer evaluation, and public sharing of the student's own work. We also conduct monthly events such as writing workshops, critique circles for poetry and prose, a book club, public poetry readings, trips to visit famous writers, dramatic readings, write nights, and events centered on promoting writing atmosphere. Also, the Great Plains Review, a student literary magazine, is annually published. There is a double meaning to the name of the club. Not only do we serve coffee and tea at every meeting, we are also the blend of writers here in the Sterling community varying from experienced to inexperienced, poetry to prose to drama, and those who write for leisure to those with professional ambitions.
Schedule of Events:
Jan 27 - English Blend first meeting this semester. Information and vision night. 6pm McCreery Basement
Feb 25 - English Departmentt/English Blend Fire Side Readings at Dr. Watney's house 8pm
Mar 24 - English Blend Write Nite West side Cafe 8-11 come and go when you please and enjoy the Paris Coffee shop feel.
April 28 - English Blend Great Plains Review release party. Broadway Market.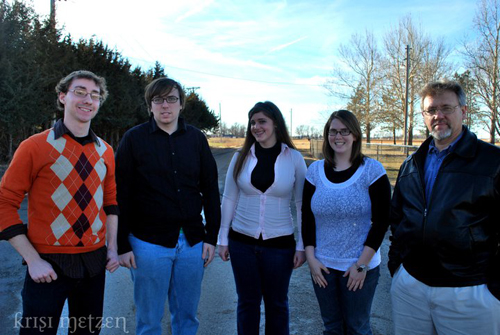 A message to Incoming Students and Alumni
Thank you for visiting our site. We would like to offer an extended invitation to Incoming Students and Alumni interested in having their work published. Please submit your work to our head editor Amanda at axydis01@sterling.edu, and two works will be selected to be published in the, "Great Plains Review."
Forum Link
A message board to share and critique creative writings. Email our head editor Amanda at axydis01@sterling.edu to submit your work. This Message Forum allows students and staff to share and critique any works of writings. Submissions will be reviewed for potential entries for the Great Plains Review. We reserve the right to monitor all comments and remove any we deem as inappropriate. If you would like to submit any works for the forum please email Amanda Xydis (axydis01@sterling.edu).
GPR Archive
View digital copies of previous editions of the GPR (Great Plains Review).
Facebook Link
Join us on Facebook to view videos and photos of past events.
Send any comments, questions, etc., to our email at (jmathews01@stering.edu).
Also in this Section