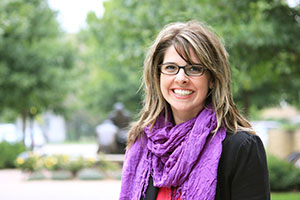 Position:
Director of Ministry Teams
Jenny Bradley serves as the Director of Ministry Teams for Sterling College. SC's Ministry Teams lead worship services and special events for churches and schools. Ministry Teams are made up of current college students with talents in photography, graphic design, production arts, singing, worship leading, theater, and communications.
Jenny brings over a decade of leadership experience to Sterling College with emphasis in creative ministry. She has served in leadership roles developing teams, designing programs, and directing events. She has also served behind the scenes working with the production and talent at various national ministry and leadership conferences for over twelve years. Most recently, Lane served full-time for ten years as the Creative Ministries Pastor for FellowShip Kids at Fellowship Bible Church in Little Rock, AR. During her tenure at Fellowship, she enhanced and gave leadership to the worship arts and special events for the children's ministry of over 1600 students. She has an eye for detail mixed with passion for creativity and a love of philosophy. Lane wrote curriculum, developed training, and executed services nearly every week, but her favorite moments were connecting with students and adults as they made discoveries into their identity in Christ.
Jenny is glad to be serving at her alma mater. Being a life-long learner and a supporter of Sterling College have been important to her through the years. Jenny graduated from Sterling College in 2002 with degrees in Religious and Philosophical Studies and Christian Education. During her time as a student at Sterling College, she was involved in a plethora of leadership activities and the arts. In the Spring of 2014, she graduated with a Master of Arts in Intellectual Leadership from A.W. Tozer Theological Seminary. This graduate degree focused on theology, philosophy and leadership with an emphasis on "thinking Christianly." Jenny says, "As I continue my academic endeavors and my professional ministry career, my hope is that I speak life and show love to others. I hope I can enhance the students' growth while they are here at Sterling College and that we can serve churches and schools well as we share in the wonder and glory of God."
Learn more about the Sterling College Ministry Teams
Education
B.A. in Religious and Philosophical Studies, Sterling College
B.S. in Christian Education, Sterling College
M.A. in Intellectual Leadership, A.W. Tozer Theological Seminary
Office
Thompson Hall 216
Contact Information
Phone: (620) 278-4366
Email: jlane@sterling.edu