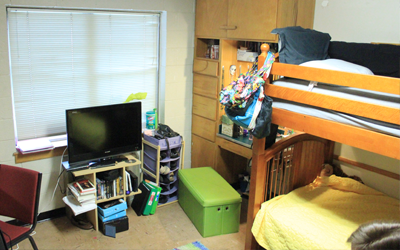 McCreery Hall, built in 1957, is located on the northeast corner of campus and enjoys a picturesque view of Cooper Hall. This female dorm houses about one hundred women among five wings. The yummy aroma of baking often fills the hall from our well-used kitchen. According to campus legend, the McCreery water is said to contribute to the amount of engagements among McCreery Hall women. "Don't drink the water!" is a well-known slogan among the girls! For the young ladies who do get engaged while at Sterling, a traditional ring ceremony is given in our main lobby to congratulate the special lady. Sterling ladies enjoy the fellowship and companionship of McCreery Hall...come join the McCreery family!
Most McCreery residents live two to a room, although a few residents have single rooms. Each resident is provided with a twin-sized bed, mattress (mattress may be regular twin size or extra-long twin size), closet, desk with desk light, bookshelves and desk chair. Also provided are built-in storage units, mirrors, bulletin boards, and mini-blinds. McCreery Hall offers various community areas: three lobbies with televisions and study areas, a prayer room, a laundry facility, bathrooms and a kitchen.
Building Lofts
Only lofts that meet the following safety guidelines will be allowed in rooms. Any loft that doesn't meet these standards will be taken out of the room by maintenance at the resident's expense.
The loft must have 4 attached legs if a "single loft" or at least 6 attached legs if designed to support two beds.
The legs must be sturdy and firmly attached to the loft.
The loft may not be attached to, leaning on, or supported by any surface or object in the room. This includes walls, desks, window frames, or bookshelves.
The loft must be entirely self-supporting and stable.
There must be at least 2 feet of clearance between the top of the mattress and the room ceiling.
A ladder must be securely attached to the loft.
Cinder blocks or other non-integrated support devices are not allowed to hold up lofts.
Room Dimensions
Mattress 73" x 36" (Average; please note that some mattresses are regular twin and some are extra-long twin)
Window Size 66" x 53"
Room 11'6" x 13'10" (average)