The Sterling College Business Department is excited to announce the addition of a new concentration in Capitalism. The concentration is made up six courses: Free Enterprise and Capitalism, Capitalism throughout the World (Past and Present), Economic Ethics; Capitalism and the American Way, Christianity and Economics, and an Internship course. The purpose of the program is to prepare students to participate in the modern capitalist economic system. The Business Faculty believe that students often enter the workplace without a proper understanding of the economic system in which they must function. The Capitalism concentration has been designed to provide students with a comprehensive and in depth understanding of Capitalism and alternative economic systems.
Introduction
Sterling College has created a unique business program that prepares Sterling students for the workplace and/or graduate school immediately upon graduation. Sterling has done so with a practical and relevant core curriculum that emphasizes workplace training. Traditional business theory is also emphasized, and is taught from an application perspective.
Research Based Curriculum
The Business Department's core course requirements were derived from a survey sent to over 1000 people in the business world. Their responses confirmed what our secondary research had indicated; businesses need people with foundational business knowledge who can also communicate, write, think critically, act ethically, listen, and follow directions. The Sterling College business curriculum meets these needs.
Real-Life Application for Course Credit
The Sterling College Business Department is actively integrating actual business projects into the curriculum. In March of 2008, the Business Department opened a Quiznos franchise in the town of Sterling. The project began nearly three years ago with two teams of business students researching potential franchise opportunities for the city of Sterling. Each team recommend a franchise to an investor in January of 2007. The investor made a choice based on the recommendations. Those two teams, along with other Sterling business students then went through the process of building and opening a franchise in Sterling.
Integration of Christian Principles into the Classroom
Biblical teachings are integrated into each and every course in the business department. Students are given the opportunity to apply foundational Christian concepts to business situations with guidance from faculty members.
Real Estate Concentration
The Business Department is excited by the launch of the real estate concentration. Students choosing this concentration have the opportunity to be involved with actual real estate projects in the Sterling area, as well as to receive foundational concepts in the classroom.
Hybrid Online Courses
Students have the opportunity to take "hybrid" online courses through the business department. These courses will be taught online through on-campus faculty. The courses will still meet certain weeks for an hour (at the professor's discretion) to provide an opportunity for some student interaction, and the professors will be available through office hours to provide one-on-one help as needed.
Curriculum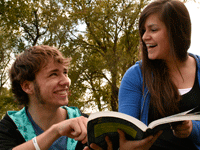 Modern business curricula looks very much like the business curricula from 50 years ago. College-level business programs have simply not kept up with the contemporary business world. The complex and specialized business world of today has made the practice of strictly focusing on business theory obsolete, and hence made the curricula of many schools obsolete. The contemporary business student needs to be "trained" to function in today's business world in addition to being given the basics of business theory. The complex nature of computer systems, communication methods, and global economies has created a world for which most graduates are not prepared.
The Sterling College Business Department is dedicated to producing constantly-evolving programs that will focus on the skills and traits most desired by the contemporary business community. Employers are currently interested in new employees with established communication and interpersonal skills, software and technological proficiency, and analytical and problem-solving abilities. Employers are also looking for the character-based traits of loyalty, honesty, and integrity in their employees. Modern business programs often address these skills and traits to some degree, but one would be hard pressed to find a program where the skills and traits currently in demand by the business world are the focus of the curricula. Sterling offers such programs.
In the not-too-distant future, it is the intention of the Sterling College Business Department to have Sterling considered one of the top schools for the study of business. This will be accomplished by creating a highly-academic application bases curriculum, which is outlined below.
2010-2011 Business Curriculum (PDF)
Class Schedules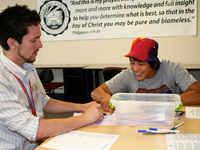 Faculty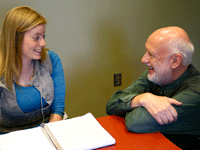 Irene Barkman
Assistant Professor Business
Kwa Teow Hwa
Professor of Business, Thompson-Ferrari Endowed Business Chair
Dale Levering
Associate Proessor of Business, McVay Chair of Business
Timothy Thorpe
Assistant Professor of Business
Quiznos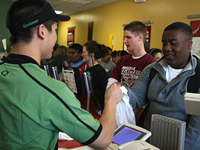 In September of 2006, student applications were accepted by the business faculty for positions in the newly created "franchise group." This group was charged with researching and presenting franchises that would be feasible in Sterling, Kansas. The group was divided into two teams. Each team presented their franchise ideas in January of 2007 to Wichita businessman Jack DeBoer, Sterling College President Dr. Bruce Douglas, Sterling College Vice President for Institutional Advancement Dr. Mark Sarver, and Sterling College Business Chair Dr. Kevin Hill.