Sterling College Student Stuart Parman Designs Set for "Cocktails with Mimi"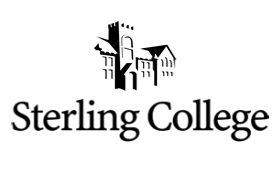 Wednesday, February 3, 2010
When Sterling College's production of "Cocktails with Mimi" opens this weekend, Stuart Parman's role in it—though a sizeable one—will not be his greatest contribution to the show. Though he enjoys acting, his passion is set design, and the set of "Cocktails with Mimi" reflects that. For Parman, set design is an art, "a way for me to express my vision." It has been part of his entire Sterling College experience—and he hopes it is part of his future as well.
Parman, of Arkansas City, Kan., "fell in love with set design" last year. "I enjoy creating the picture the play takes place in. The color, the details of dressing the set—every little thing adds to the message of the show and what the audience will take away from it." He tests his abilities with every new set he designs or builds, and for "Cocktails with Mimi" he challenged himself by creating a depth of field with free-standing arches that define an interior space. "I want to create the illusion of a whole house." Student Director Mandy Nichols was pleased. "The entire set design gives the audience insight into Mimi's character," she said. "A person's house says a lot about them."
Parman, too, is pleased with the progression of the set, but it is not his favorite among the sets he has designed. "That would be 'Arsenic and Old Lace,'" he said, referring to last spring's production directed by senior theatre student Jennie Czuba. "Everybody knows that set from the old movie, and we got to actually visit the house that the movie set was based on. It was my inspiration, and it was nice to design and build a set people would be familiar with, but that still had some of my own interpretation."
He has worked on set construction all four of his years at the College and has been the student supervisor of the theatre scene shop for the last two years. Recently he was able to design the set for Liberal High School's "Anatomy of Gray," and he hopes to do more of that.
"Every set is a learning experience," he said. His hope is that all the learning and all the experience lead to a career.
Parman's professors believe he has what it takes. "Stuart has the drawing and design skills—and the construction skills—to be effective," said Theatre Department Chair Gordon Kling. "Undoubtedly he will go on to graduate work in technical theatre and design as others have before him."
"I'm looking for great things from Stuart," added Theatre Senior Associate Professor Diane DeFranco-Kling. "I hope he finds his opportunity."
The Sterling College Theatre Department presents "Cocktails with Mimi" at 8 p.m. on February 5 and 6 in Culbertson Auditorium on the SC campus. Tickets are available at the door. The box office opens at 7 p.m. and doors open at 7:30 p.m. Ticket prices are $5 for adults and $3 for students, children, and seniors.