AT Program Admission Requirements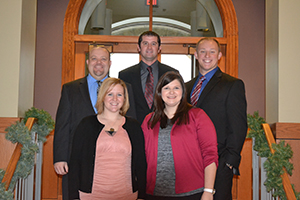 This is a competitive program and application to this program does not guarantee admittance. Students declaring athletic training as a major will be given an athletic training-conditional status until full acceptance into the program. The quota of applicants accepted into the AT Program is limited by faculty to student ratios, and the highly individualized nature of this program. Admission to the AT Program is based on the following criteria:
Maintain a minimum 2.5 overall GPA.
Complete AT 242, AT 243, and AT 255 with a minimum of a 2.0 GPA (C).
Documentation of 50 hours of direct observation of the athletic training profession.
Completion of application form.
Letter of application stating why you want to apply to our program and why you want to become a certified athletic trainer.
Submit two letters of recommendation. Neither letter can come from a fellow student, friend, or family member.
Complete a formal interview with the AT Program Interview Committee.
Documentation of receiving immunization injections for Hepatitis B immunization. If the student chooses not to be Hepatitis B immunized, the student must read, complete, and sign the form entitled "Hepatitis B Vaccine Declination Assumption of Risk and Release" prior to acceptance into the SC AT Program.
Present proof of current American Red Cross or American Heart Association First Aid and CPR-PR certifications, or its equivalent.
A current (within one year from application) health history and physical examination.
Students must read, sign and return the "Technical Standards for Admission into the Athletic Training Education Program" found on the Athletic Training Program Curriculum verifying that the student meets the minimal required technical standards for admission into the program.
Prospective students must first complete the SC application
***Some of the clinical experience sites are off campus travel to and from these locations is the responsibility of the student. Also there are fees associated with this program for apparel. For Directed Observers there is no fee, an SC AT Program T-shirt is required but will be given to students at no cost. For students accepted into the program there is a fee added to all Practicum courses to provide for uniforms and apparel. These fees can be found in our Academic Catalog and in the SC AT Program Student Handbook.***
AT Program Student Forms