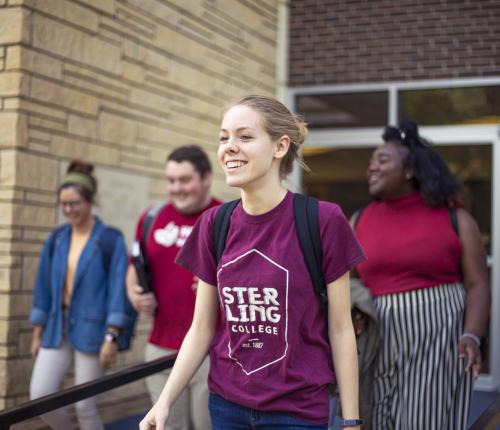 Honors Program
The Honors Program builds on the heart of Sterling College's liberal arts roots to encourage students thoughtfully to consider how to live their lives with purpose both in the present and in the future. The Program aims to widen students' view of the world and their purpose, especially the stewardship of their academic and intellectual gifts, and to allow themselves to be shaped by new ideas, experiences, challenges, and service.
The Honors Program primarily pursues its goals through two avenues. First, all honors students beginning with the 2022 incoming class will register for a single-credit course each semester that will help them explore a significant idea, figure, or skill from a wide range of disciplines such as the fine arts, theology and bible, the physical sciences, or the social sciences. These courses come at no extra expense to students, even if they are taken in overload. Second, honors students have the opportunity to participate in honors program point events, ranging from lectures from Sterling faculty or noted visiting scholars to immersive learning experiences in locations like wildlife preserves or the Wichita Symphony Orchestra.
Importantly, the Honors Program is committed to serving students holistically. Most Honors Program students are involved in several activities on campus. They are athletes, musicians, debaters, and participate in other forms of leadership on campus. Students will have a wide range of ways to earn the required credits to complete the honors program. Students heavily involved in extracurricular activities can take honors courses that count toward general education requirements, or they can use our contract course option to turn classes required for their degree path into honors classes. These opportunities ensure that the academic requirements will be achievable for students pursuing other professional, academic, and extracurricular opportunities across campus. Our program works carefully with students, coaches, and other campus leaders to ensure that participants in the program are able to pursue their various interests and integrate them into an overall sense of purposefulness.
We believe that the Honors Program has the potential to add tremendous value to your Sterling College education. We hope that as you explore the program that you will see how it can deepen and enrich your life as you pursue who you are meant to be.
Entry Requirements
Admission to the Honors Program is initially determined by high school GPA and a program application for incoming freshmen that asks applicants to reflect on their education. In addition, those already attending the college who are interested in being considered for the Honors Program may apply (contact the Honors Director, Dr. Butner, for more information.
Honors Program Scholarship
Qualified applicants who are accepted to the college are eligible for an Honors Program scholarship. The Honors Program Scholarship is renewable annually as long as students are actively involved in the program and making satisfactory progress toward completion.
Quotes from our students and alumni:
"It is important to strive to be a well-rounded individual, not just an expert in one subject. I am thankful for Sterling College and the honors program because I was pushed outside of my comfort zone and encouraged to deepen and explore multiple facets of my life."
"The Honors Program . . . courses [are] laid out in a way that encourages all of the students in the class to interact with one another rather than students just listening to a lecture . . ."
Completing the Honors Program
Our annual celebration honoring graduates who have completed the Honors Program is one of the highlights of the year, attended by family, professors, administrators, staff, and friends. Students who complete the Honors Program also receive our Honors Program Medallion, which they proudly wear at the college's commencement ceremony, at which they received special recognition.
Requirements for Successful Completion of the Sterling College Program
Graduate with at least a cumulative 3.5 GPA in all college coursework
Earn ten Honors Program Points. Honors Program points may be earned through numerous co-curricular activities and events both on-campus and off-campus.
Earn twenty Honors program course credits, as many as eight of which will be earned in required one credit honors courses taken each semester. Many of the courses fulfill General Education requirements. Other opportunities may include major courses with additional assignments for Honors Program credit and internships.
Complete service hours requirements as specified each year. These service projects will be coordinated with the Honors Program to ensure meaningful and purposeful service for students.
Complete a capstone project / reflective essay
Benefits of the Honors Program
Early registration – Active Honors Program students will be able to register for classes at the same time that seniors do. In addition, during spring registration, courses for the entirety of the following academic year may be scheduled in advance.
Special Events – Participation in classes and events sponsored by the Honors Program. Most extracurricular events involve no cost to students.
Symbols of Completion – Honors Program Completers will receive a certificate of completion, be honored at a special gathering, and receive a medallion to wear during graduation.
Being an Honors Program Completer places you in the company of many outstanding students before you and is an excellent addition to your resume or graduate school application
Most of all, the Honors Program will provide you with experiences and with a community that will deepen your understanding of the world and your place in it.
Honors Program Courses
Honors Sections of General Education Courses
Honors Program courses that count toward General Education requirements are a direct substitution for courses that all students at Sterling College must complete. However, these courses are specifically designed with you in mind. They are interactive, more discussion-driven, and promote an Honors Program learning community.
TM102-H Introduction to Old Testament – 3 credits (Fall)
TM103-H Introduction to New Testament – 3 credits (Spring)
TM366-H Basic Christian Doctrine (Odd Falls)
Rotating honors classes that count for general education requirements in language and literature and in history are also regularly offered
Course Options for Required One-credit Classes Each Semester
Students will enroll in one single-credit class each semester. These courses focus on evaluation and application of major concepts, skills, and figures in multiple disciplines.
Classes will be collaborative, interdisciplinary, and discussion-based. Though specific subjects will change each semester, course options include:
HR2** Engaging the Fine Arts
HR2** Engaging the Humanities
HR2** Engaging Theology and Scripture
HR2** Engaging Professional Studies
HR2** Engaging Health and Athletics
HR2** Engaging the Social Sciences
HR2** Engaging the Physical and Natural Sciences
HR2** Engaging Mathematics
HR3** The Life of the Mind in Service of the World
Honors Program Special Topics Courses
HR232 Engaging with Texts (1 credit) (Offered periodically) – This course, offered each semester and repeatable, is designed to provide students with the opportunity to interact with their peers and a professor at the college to read through and discuss a book that a professor has chosen in their field. Topics have included: Math Through the Eyes of Faith, Luther's Theological Writings, Sigmund Freud and C.S. Lewis, and Faith and Science.
HR289 Special Topics – Honors (1-3 credits) (Offered Even Interterms) (Civil Rights Movement – 2018)
Topics for HR289 have included: Global Impact, Creativity and Innovation, Civil Rights Movement