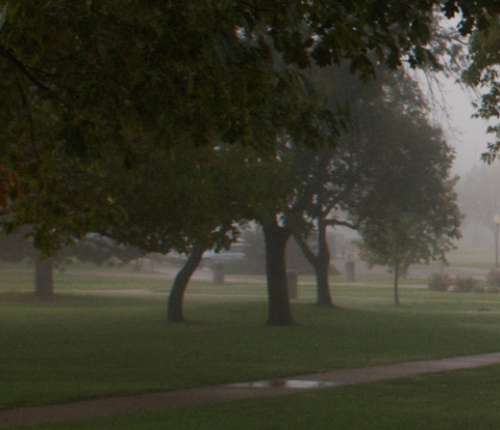 Buildings and Office Directory
New to Sterling? Take a quick campus tour through our photo gallery!
Cooper Hall (1887)
Cooper Hall was the original building on the campus, and the College was known as Cooper College until 1920. Cooper Hall is listed in the National Register of Historic Places and in the American Presbyterian/Reformed Historical Sites Registry. The building has undergone extensive renovation and reopened in fall 2003.
Spencer Hall (1919)
Sterling's first president, Reverend Francis Marion Spencer, was honored when the second campus building was completed. In addition to the auditorium, the building houses the communications, media and theatre arts department along with the debate and forensics team practice room. Major renovation of the auditorium was completed in 1974; theatre production areas were renovated in 1985 through a matching grant from the Mabee Foundation. At Homecoming, 1979, the auditorium was named in honor of Ruth Culbertson, '30 whose estate funds had provided further building renovation and installation of a new organ. In 2011 the stage in Culbertson Auditorium was named the Diane DeFranco-Kling and Gordon Kling Stage after the couple (now both faculty emeriti) served the college for 41 and 43 years.
Wilson Hall (1920)
Formerly the gymnasium, Wilson Hall was named for Professor S.A. Wilson, a member of the faculty from 1887 until his death in 1943. Remodeling of the lower floor was completed in 1973 to house a rehearsal room for instrumental and vocal music, as well as offices for music department faculty. The upper floor is now used for classes and campus activities.
Campbell Hall (1925)
Named in honor of Dr. R. T. Campbell, president from 1910-1933, Campbell Hall served for many years as residence hall for women and the location of the cafeteria. It now houses men and provides office space for the theology and ministry department, history department and information technology. The classroom space in Campbell Hall is handicapped-accessible.
Kelsey Hall (1954)
The original library on campus, Kelsey Hall, now houses the behavioral science department, the education department, the language and literature department, administrative offices, Sterling College Online and several classrooms. It was named in honor of Dr. Hugh A. Kelsey who was president from 1933-1946. In 1968 funds from the estate of Roy Thompson, a Sterling area farmer, made possible an expansion of the administration wing.
McCreery Hall (1957)
This women's residence hall was named to honor Dr. William M. McCreery, president from 1946-1973. The McCreery Hall basement contains one classroom.
The Student Union (1961)
Since February 1961, the Student Union has been the site of many campus activities. The cafeteria, post office, study lounge, recreational room (Cornerstone), bookstore and student life offices are located here. The main dining hall honors "Aunt Ella" Smith who was involved in serving meals to students from 1910-1952. A 1966 addition provided more dining space, including the Chandler Boardroom named for Jerome Chandler, chairman of the Board of Trustees from 1962-1984. In 1990 a major renovation was completed that remodeled two lounges and created a commuter study area, a game room and a snack bar. Another renovation was completed in 2012. This included updates to the equipment and layout of the cafeteria to service more students and offer a wider variety of cuisine and renovations to Cornerstone. Chandler Boardroom was also updated to provide the technological updates necessary for computer presentations.
Kilbourn Hall (1962)
This men's residence hall was named for Nelson Kilbourn, alumnus, grandson of the first president, and long-time member and former chairman of the Board of Trustees. A second wing was added in 1965.
Evans Hall (1963)
This women's residence hall was named for Harold and Aileen Evans to honor their continuing faithful service to their Alma Mater. Mrs. Evans was active in speech, drama, and alumni affairs, and Mr. Evans served for many years on the Board of Trustees, including three years as chairman.
Thompson Hall (1964)
Thompson Hall was named for Dr. Ruth Thompson, professor of chemistry from 1920-1965. The building houses the business and natural sciences and mathematics departments. The building features a computer lab and several laboratory classrooms. Bell Hall, a large lecture hall, is named for Professor Talmon Bell, who was head of the mathematics department from 1895-1947. The Heritage Gardens and Outdoor Learning Lab are also located behind Thompson Hall.
McCracken Field - Smisor Stadium (1964)
McCracken Football Field is named in honor of Dr. J. C. McCracken, former student, All-American football player at the University of Pennsylvania during his medical school career, Olympic star and medical missionary to China. Smisor Stadium honors Frank Smisor, former alumni secretary and farm manager. The track honors Dr. Ralph T. McCreight, a 1920s Sterling College track star. North of McCracken Field are four tennis courts, built in 1964 and named in honor of Dr. J. W. Fields, former member of the Board of Trustees. A baseball diamond and practice fields are also part of the facilities.
Gleason Physical Education Center (1971)
A sports center which includes the basketball court, exercise deck, swimming pool, offices and classrooms was completed in May 1971. At Homecoming in 1986, the Center was named in honor of Clair L. Gleason, athletic director from 1953-1986. In 1990 a comprehensive weight training facility was added to the center, called the Edwards Weight Center, in honor of John Edwards and Ed Edwards, Sterling College athletes in the 1910s.
Brownlee Plaza (1977)
Brownlee Plaza, located at the center traffic point for the campus in front of the Mabee Library, was the gift of alumni and friends to honor George Brownlee, alumnus and former staff member. The clock with chimes is a memorial to alumni Harold and Aileen Evans.
Art Center (1978)
One block south of the campus, the building that was once the Sterling Community Hospital has become the Art and Media Center. Since 1979 it has provided the setting for student and faculty art exhibits, traveling art exhibits and special shows, and classroom and office space for the departments of art, communications and education. It currently houses faculty from the art and communications departments along with classrooms, a photo studio, darkroom, gallery and video-editing suites.
Mabee Library (1996)
Mabee Library opened in April 1996, serving as a gateway to global information resources and includes an academic computing classroom and lab. Computer workstations provide network access to the online catalog, over 50 bibliographic databases and the Internet. The Crebbs Museum, located in the library, was a 1964 gift of Chester M. Crebbs '17 and his wife in memory of his parents. It houses Indian artifacts and items of local history.
Douglas Residences (2006)
The Douglas Residences were built in 2006 during the presidency of Dr. Bruce Douglas who served SC for four years. The rooms in Douglas Men and Women were constructed in a suite-style layout, including bathrooms for each suite. These two buildings are reserved for upperclassmen students and are considered a place of peace and quiet.