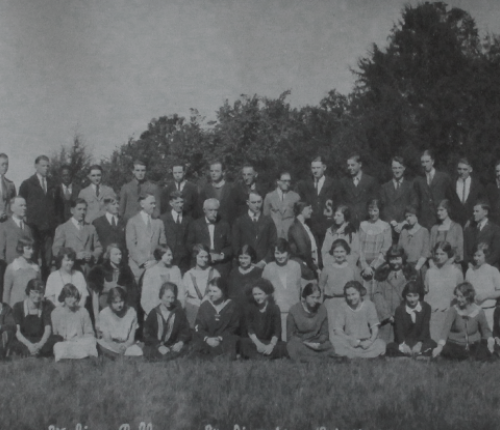 History
Sterling College was founded in 1887 as Cooper Memorial College by the Synod of Kansas of the United Presbyterian Church of North America. The original name honored a revered former leader of the denomination. The original curriculum offered four majors and a preparatory department offering high school courses for those students unable to attend such institutions in their home communities. The major included a "Classical Course," a general liberal arts emphasis, a "Normal Course" for prospective teachers, an "English Course" for future school administrators, and a business course of study. These original curriculum choices remain important to Sterling College (renamed in 1920) even today. 

Another distinctive aspect of Sterling College, dating from its inception, is the emphasis placed on its status as a Christian college. Sterling College holds strong the mandate of the original charter to be "thoroughly Christian, but not in any sense sectarian." Its faculty and staff are believing Christians who strive to combine the concepts of faith and learning in their lives and in the classroom.  While Sterling College continues to affirm its historical ties with the Reformed tradition, the College nurtures and develops strategic partnerships with Christian churches of various denominations and with evangelical organizations in order to advance the mission and vision of the College. Accountability for the College's mission and vision rests in governance by an independent self-perpetuating Board of Trustees.

Sterling College looks to the future with confidence. With support from the community, churches, and thousands of dedicated alumni and friends who annually help the College, the Sterling College tradition continues. The background and interests of the students combined with the College's Christian focus, gives Sterling College a heritage and a future which promise each student a concerned and supportive learning environment.