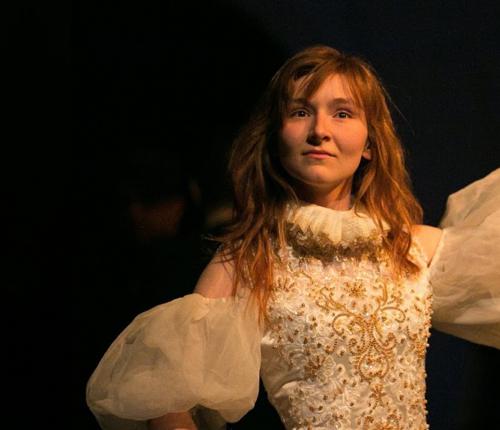 Theatre Arts
About the Program
The theatre arts major provides the student with focused study in theatre history, criticism, literature, design and advanced performance, and production including acting, stagecraft and directing.
Theatre laboratories give students acting and production experience through an annual season of plays including musicals, classics and modern drama via settings including main stage, intimate dinner theatre, touring children's theatre and alternative spaces. Plays are chosen to cover a representative range of styles, genre, topics and periods in any four-year course of study.
Work and practicum opportunities are also available in professional theatres, summer stock, theme parks and other related settings.
The program has an excellent record of students being admitted to graduate programs. Skills and qualities developed by the program include organization, artistic design, self-expression, leadership, human relations, self-awareness, critical judgment and creativity.
2018-2019 Theatre Productions
   October 4-7, 2018
   Small Room at the Top of the Stairs
   November 15-17, 2018
   January 31-February 3, 2019
   February 28-March 4, 2019
   Performing Arts Festival
   May 3-4, 2019
Are you a high school teacher who would like to get your students out to a live theatre performance? Come join us!
Big Fish Pizza Party Preview | Thursday, October 4, 2018
Small Room at the Top of the Stairs Pizza Party Preview | Thursday, November 15, 2018
Little Shop of Horrors Pizza Party Preview | Thursday, January 31, 2019
Steel Magnolias Pizza Party Preview | Wednesday, March 27, 2019
SC Theatre Workshops
| Our annual theatre workshops, followed by lunch and a matinee! This year's production will be
The Liar
. There is a small cost per student to attend. 
Pre-registration
 is required and will open in November.
SC Theatre Workshops | Monday, March 4, 2019
Past Theatre Productions​
Licensures
Secondary Education Licensure
What Can I Do With This Major?
Actor
Advertising
Director
Make-up artist
Costume designer
Acting coach
Critic
Lighting designer
Playwright
Producer
Set designer
Stage manager
Theatre manager
Sample Courses
Extracurricular Activities
TASC (Theatre at Sterling College)
Theatre Arts Scholarship Requirements
Theatre Performance – Perform two contrasting monologues. In addition, if interested in Muscial Theatre please bring 16 bars of song. 

Technical Theatre – Be prepared to discuss your interest in Technical Theatre. Bring any of the following (if available): 

Photos of productions/props/set pieces you have worked on. 

Drafting plates, or technical drawings you have created. 

Prompt books, or research files you have created for your designs. 

Any models or renderings.