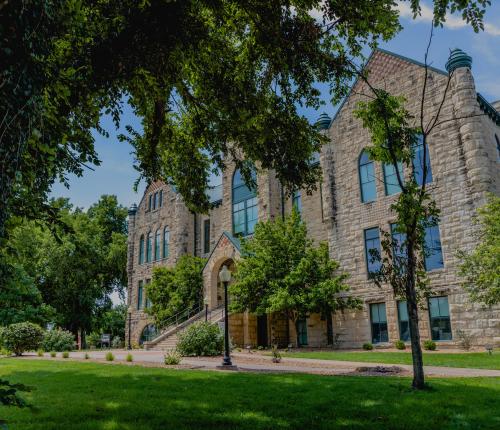 Tuition & Expenses
The tuition charge at Sterling College covers 12 to 18 credit hours of instruction per semester.
The Campus Activity Fee covers admission to all athletic events, theatrical programs, lectures and most special concerts, the use of the Student Union, and other services.
Room and board costs include housing in college residence halls and meals in the college cafeteria while school is in session.
Special Fees include extra charges for special services and instruction, such as private lessons (see fee schedule below).
Students are responsible for textbooks and may be asked to purchase specialty items for certain classes. These will be specified at the beginning of each semester.
Students must provide their own transportation for classes meeting on other campuses and for student teaching.
Sterling College reserves the right to change tuition and fees at any time.
These charges apply only to traditional campus-based Sterling College courses. Please click here for costs associated with online courses.
Annual Schedule of Charges 2023-2024
TUITION
Full-time (12 to 18 hours) ($15,000 per semester) $30,000
Part Time (Tuition fees vary depending on hours taken. See below.)
NEW STUDENT FEES
Initial Application Fee $25 (Fee waived if application is completed online)
One-time Advance Liability Deposit - Commuter $50 Residential $100
           *Deposit is not refundable
MISCELLANEOUS FEES
Campus Activity Fee: $750 per semester
Technology Fee: $200 per semester
Class Fees (Based on enrollment): $15-$150
Books (Estimate per semester): $200-$600
Audit Fee (per credit hour): $55
Late Registration/Orientation/Enrollment Fee: $25
Enrollment Fee: $300 per year (Payment due on or before arrival)
Overload Fee per hour (over 18 credits per semester)**: $558
Credit by Examination (per credit hour): $50 - $100
Graduation Fee (applies only to graduates): $100
Transcript Fee: $15
Returned Check Fee: $25
Part-time 1-6 hours (Per credit hour): $558
Part-time 7-11 hours (Per credit hour): $954
PRIVATE LESSONS (In addition to regular tuition)
Per credit hour $300
BOARD
Board (150 Meal Plan) ($2515 per semester) $5030 - Includes $100 market credit
(150 meal plan excludes freshmen)
Board (200 Meal Plan) ($2700 per semester) $5400 - Includes $75 market credit
Board (300 Meal Plan) ($2958 per semester) $5916 - Includes $50 market credit
HOUSING
McCreery Hall
One person per room ($2058 per semester) $4116
Two people per room ($1808 per semester) $3616
Campbell Hall
One person per room ($1958 per semester) $3916
Two people per room ($1708 per semester) $3416
Evans or Kilbourn Hall
Two people per room ($2108 per semester) $4216
Three people per room ($1958 per semester) $3916
Four people per room ($1658 per semester) $3316
Douglas Women or Douglas Men
Two people per room ($2258 per semester) $4516
Three people per room ($2058 per semester) $4116
* Note: For subsequent years, students should consult the Annual Schedule of Charges available from the Office of Financial Services.
** Overload fee is not charged to students enrolled in 19 credit hours who are also enrolled in Band or Choir.
Financial matters must be in order by September 1 and February 9 or the student may be dismissed from school. Students who fail to pay any amounts due are not eligible to re-enroll, receive grades, transcripts or diplomas until the account has been settled. Click here to access a copy of Sterling College's payment options.
If a student's account is turned over to collections all collection costs will be paid by the student.
The College reserves the right to charge a student for damages to college property.
Currently there are no rooms for new Sterling College students available in Douglas Men or Women's Hall.
There are no single rooms for new Sterling College students currently available.
Residential Life will not place only 2 people in Kilbourn & Evans Halls. Each Kilbourn & Evans room must have three or four students in it.
STUDENT TEACHING/CAREER SERVICES
Student teachers are required to follow the calendars of the schools in which they are assigned to teach. Should the calendar of some particular school and the calendar of Sterling College have different holidays, breaks, or beginnings and endings of the school year, the student teacher will follow his or her assigned school calendar. Additionally, should student teachers find a situation where Sterling College is closed for a particular break and the assigned school is not closed, the student teacher will assume the cost of his or her room and board.
Student Teaching & Placement Fee: $200 estimate
Special Benefits
The following special benefits are provided for students taking courses at Sterling College:
1. No tuition is charged to students over 65;
2. Reduced tuition is charged for the first three credits per semester ($25 per credit) for ordained ministers; and
3. Half tuition is charged for a maximum of six (6) credits per semester for high school students.
Liability & Credit for Withdrawal from the College
By registering for classes or completing housing or meal plan applications, a student incurs a legal obligation to pay tuition, fees, room, and board. If a student withdraws prior to the start of the semester and incurs no charges, the tuition deposit is forfeited. If the student has incurred any charges, the deposit is applied to those charges. If a student withdraws during the semester, charges will be prorated if he/she has been enrolled for less than or equal to 60% of the term, and completes the necessary withdrawal forms obtained from the Student Life Office. If a student has been enrolled for more than 60% of the term, he/she is not eligible for a reduction in tuition, and room or board charges. Fees are nonrefundable. The refund formula measures the actual number of days enrolled during the semester. It is determined by dividing the number of days enrolled by the number of calendar days in the semester including weekends and holidays and extended breaks. For example, there were 108 calendar days in each semester of the 2006-2007 calendar year. If a student withdraws on the 50th day of the semester, the charges and financial aid will be prorated to reflect that he/she has been enrolled for 46.3% of the semester (50 divided by 108). If a student is a recipient of Federal Title IV financial aid, refunds to those programs are required by federal law to be the first priority and must be returned in the following order: Unsubsidized Federal Stafford Loan, Subsidized Federal Stafford Loan, Federal Perkins Loan, Federal PLUS Loan, Federal Pell Grant, and Federal SEOG. A student is not eligible for a refund until all Federal Title IV programs and other scholarships are reimbursed as required and all outstanding balances with the College have been cleared. Federal law requires all student borrowers to participate in an exit interview through the financial aid office.