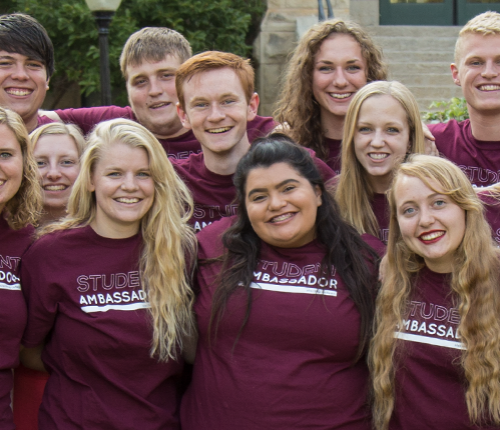 Ambassadors
Admissions is hiring 18-19 Student Ambassadors!
 
Do you enjoy making connections and talking about your time at Sterling? Do you love getting to be a part of something bigger than yourself? Are you excited about the opportunity for professional development and growth? Then this is for you! Admissions is currently hiring for 20+ ambassadors for the upcoming year. We are looking for hard working, reliable and engaging students to help share and grow the community of Sterling College. Applications received by April 20th will receive full consideration. 
If you are unable to fill out the ambassador application online, you may pick up a paper application in the Admissions Office, which is located on the first floor of Cooper Hall.
 

Mason Rich

Hey! My name is Mason Rich, and I am currently a freshman at Sterling College! I am from Sterling, KS, and I love the small-town community here. That is one of the reasons why I chose SC. The biggest reason SC is the place for me is because of its Christ-centered focus and message. Being a freshman, I haven't experienced much of the college lifestyle yet, but I know that SC is where I can grow and make tons of memories.

Will Dutton

Hi, my name is Will Dutton, and I am an excited, incoming freshman majoring in communication with an emphasis in Sports broadcasting. Sterling has been my home my entire life, but that didn't at all affect my college decision. Over the years I've been blessed to see students thrive in athletic events, on stage, and in the local community. That wouldn't be possible without so many caring, and compassionate people on campus. Over the summer I worked for the Housekeeping staff here. It was my first time with "behind the scenes" people at the college. I can honestly say that they were some of the kindest, and most hard-working people I've met. They may have small jobs, but they relish their roles in keeping the college clean and interacting with students. That's the vibe I've gotten from everyone on campus -- a genuine interest in people and a desire to help others become more like Christ. 

 

Tiffany Adams

Hey!  My name is Tiffany Adams and I am a freshman. I'm planning on majoring in Graphic Design. I am from Greeley, Colorado. It is about 7 hours away from Sterling. I was drawn to Sterling because I really wanted to go to a Christian college, also I like that the art department at Sterling has both graphic design and illustration. I also love the small town feeling that Sterling has.  

Matthew Scharff

Hello my name is Matthew Scharff and I am from Tonganoxie Ks.  I am currently a freshman and I am planning on majoring in theater and maybe a minor in business. I am also playing on the golf team as well as participating on the forensics team. I chose Sterling because of the one on one time with the professors I love the 14:1 ratio of professors to students. Sterling is a great place to do all the things that you want to do at college. I have great communication skills and am not shy. I am hoping to bring energy to the ambassador club. 

Emma Birky

Hello! My name is Emma Birky, I am a junior majoring in Communication with a concentration in Public Relations. I am from Colorado Springs, CO which is about 6 hours away from Sterling, KS. I visited many other small Christian colleges all along the mid-west. But Sterling grabbed my attention the most because of their hospitality, variety of majors, and passion to create servant leaders for the Lord. I love how the professors know me and that at SC we are a big family who love and support each other. During the past three years on campus I have been involved with the Freshman Activities Board as the Treasurer, Campus Activities Board as the Event Coordinator, and this year I am a Resident Assistant in McCreery Hall. I enjoy being involved with the events on campus, cheering on the sports team, and spending time with my friends. 

Julianna Pfeiffer

Hello! My name is Julianna Pfeiffer. I'm a junior here at Sterling, majoring in Psychology. I am from the east side of Wichita, Kansas. I came to Sterling because I felt God was calling me here and I love the community aspect that Sterling has to offer; as well as the quality Christian education. I am in choir and I am also a student ambassador. I enjoy meeting new people and hearing their stories.

Patty Davila

Hello! My name is Patty Davila, I am currently a freshman at Sterling. I'm majoring in Psychology and minoring in Art and Design. When I first heard about Sterling College I placed it in the back of my mind behind other colleges. Then I had the opportunity to attend a preview weekend. I fell in love with Sterling the first time I visited. I was very drawn to all the amenities Sterling has to offer even though it's a small college. I found the community atmosphere very heart warming. I knew this would be the perfect place to grow not only educationally but spiritually as well. I'm looking forward to my next four years here. 

Preston Nichols

Hi, my name is Preston Nichols and I am a freshman here at Sterling College. My family and I moved to Sterling about two years ago when my dad accepted the Head of the Music Department position. I am a Theater and Communications double major here at SC so you will see me in many of the College's theater productions and concerts. Sterling College is a great Christian school with an amazing staff that are here to help you grow your skills and become the individual that God plans for you to be. 

Saige Biedenbender

Hello! My name is Saige Biedenbender, and I am a sophomore from Westmoreland, KS! I have always lived on a farm in the middle of nowhere so Sterling is a lot bigger then what I am used to! I am majoring in photography and getting a minor in business marketing. I plan to own a photography business doing sport, and wedding photography. I would love to take pictures for the NFR one year! On campus, I am involved in the Campus Activities Board and I am an ambassador!

Elissa Freemire

Hi! My name is Elissa Freemire. I am currently a junior here at Sterling College. I am a double major in Youth Ministries & Graphic Design. Originally, I am from Basehor, Kansas which is just outside of Kansas City. I am the Campus Activities Board President which has given me the opportunity to serve the campus by facilitating fun events for students! I came to Sterling because I love the community, both of Sterling College and of the town of Sterling. The Christian atmosphere is something that really I searched for in a college and I found that right here at Sterling.

Brianna Chastain

Hi, my name is Brianna and I am a sophomore at Sterling College, majoring in Psychology with a minor in Christian Ministries. When looking for a college, I wanted my secondary education to have a Christian background within it. Sterling does a great job of preparing us for our future careers as well as our ministry within them. The professors are open and willing to share about their experiences and are also passionate about their students' education. Multiple times a day I have professors, some who I don't even have class with, ask me how my day is or invite me to come visit with them. If you are looking for an education where you can find support and encouragement, don't look any farther, it's at Sterling College!

Drake Koops

Hi! My name is Drake Koops and I am a junior here at Sterling College. I chose Sterling because I loved the atmosphere and the diversity of individuals you will make friends with. I am currently a history and Criminal Justice: Pre-Law major with a minor in Political Science. I have also had the opportunity to get involved in Student Life by being an RA in the Kilbourn Dorm, a tutor, and also a student Ambassador. Finally, I have also had the opportunity to be a basketball player and now to be a coach. 

Ashley Dodge

Hello! My name is Ashley Dodge and I'm a sophomore from Wichita, KS. I'm majoring in business finance and biblical studies, both of which I really love. The reason I came to Sterling was because of the people. Of course the academics were impressive, but the people were so welcoming and genuine in their faith. I have professors who will pray for and with me and that is what has really set Sterling apart from so many other colleges and why I'm proud to call Sterling College home.

Seth Rogers

Hi! My name is Seth Rogers, I'm a sophomore currently majoring in Art and Design. I am from Wichita Kansas, about an hour and a half from Sterling. The reason I came to Sterling was because both my brother and sister have graduated from here and I love the sense of community here at Sterling, you just have the feeling that people care about you and your presence matters. Some of the things I like to be involved in is both art and preforming in the Theatre productions.

Joe Kern

My name is Joe Kern and I am a junior from Winchester KS. I am majoring in Sports Management, with a concentration in Administration. I have been a part of the football program here at Sterling since my freshman year. I love the Sterling college environment the people are what bring you in and the people will be the reason you stay. My door is always open to play video games, listen to music, or watch some sports on TV. 

Alyssa Hershey

Hello! My name is Alyssa Hershey and I am currently a junior here at Sterling College. I am a double major in both music and theater performance with emphasis on vocal and French horn playing. I am from Wichita, KS and one thing that I love about Sterling is the strong community that is formed here between students, professors, and staff members. People here are so welcoming and loving, campus feels more like home than college! I hope to see you here at Sterling soon!

Linzie Van Horn

Hi! My name is Linzie Van Horn and I am a sophomore this year. I am majoring in Exercise Science with a minor in Sports Ministry. I am from O'Neill, Nebraska which is 5 1/2 hours from Sterling. I came to Sterling because I liked the basketball program and I appreciate Sterling's values and beliefs. I am looking forward to learning these next few years and getting to experience Sterling in its full capacity.

Ricky Nichols

Hello! My name is Ricky Nichols, and I am a junior here at Sterling College. I am a business marketing major. My family and I recently moved to Sterling from South Carolina because my dad accepted a position as the Head of the Music Department at Sterling College. Besides being close to home, I choose to go to Sterling College for the community and Christian atmosphere. Since the first time I visited this campus, I knew this was a place I could call home. 

Britt Bowman

Hello! My name is Britt Bowman and I am a senior at Sterling College majoring in Christian ministries with an emphasis in youth and worship leadership. I am from the Kansas City area (Olathe to be exact), so it is only about a three and a half hour drive from my home to Sterling, Kansas. Sterling originally grabbed my attention because they offered both sides of my major and the other colleges I visited only offered one or the other. When I visited, I immediately fell in love with the school. From the start, it felt like home. The environment is one-of-a-kind, the people are loving and friendly and the professors are extremely available and invested in you personally; you aren't just another face in the crowd. My favorite part of Sterling College is definitely the people: the students, professors and other employees. They have become my family. I have had the opportunity to be involved on campus as a Sterling College student ambassador and in ministry teams. I am so thankful the Lord brought me here.