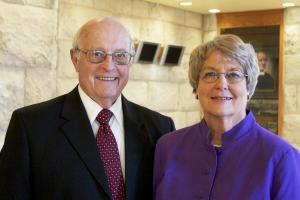 The Ross and Fern Freeman Lecture Series is founded on the idea that servant leadership not only has the potential to influence societal change, but can also provide both practical and successful management skills that can easily be applied to diverse situations. The series seeks to educate individuals on the various values and applications of leadership by highlighting the servant leadership attributes present in others.
The series is generously funded by Ross and Fern Freeman of Topeka, Kan.
"We are so appreciative of Ross and Fern. Their generosity will help us continue educating students about servant leadership, a foundational tenant of the Sterling College curriculum," said Scott Rich, president.
Ross Freeman is a graduate of Kansas State University, Washburn Law School and Harvard Business School. He earned his lay pastor certificate from Sterling College and consulted on the historic renovations of Cooper Hall. Freeman, a commissioned lay pastor, is a member of Topeka's Trinity Presbyterian Church, where he has served as an elder, as clerk of session, and now serves as chair of the pastoral nominating committee. Ross is the president and owner of Pioneer Group, Inc., a real estate development company. He also serves as chairman for Historic Preservation Partners, Inc.
Fern Freeman is a graduate of Kansas State University and has spent her years teaching, running a small manufacturing company and serving as a full-time mother to her and Ross's four daughters. Now retired, Fern just finished her third year on Trinity's Session and was the chair of the finance committee.
Ken Blanchard – September 17, 2014
10 a.m. in Culbertson Auditorium
Ken Blanchard is a management expert who has co-authored over 30 best-selling books, including The One Minute Manager, which has sold over 13 million copies. Blanchard's Lead Like Jesus organization facilitated a 10-hour workshop in August for faculty and staff, providing a rich leadership retreat to begin the year.
Danny Wuerffel – March 6, 2015
10 a.m. at Sterling College
Danny Wuerffel played football for the University of Florida, earning the 1996 Heisman trophy, setting many Gator football records and most recently, inducted into the College Football Hall of Fame in 2013. He played in the National Football League with the New Orleans Saints, Green Bay Packers, Chicago Bears and Washington Redskins. He also played in the NFL European league, winning the World Bowl Championship and selected MVP by the European media. Wuerffel joined Desire Street Ministries in 2004 and is now the executive director.