"All My Sons" opens Nov. 17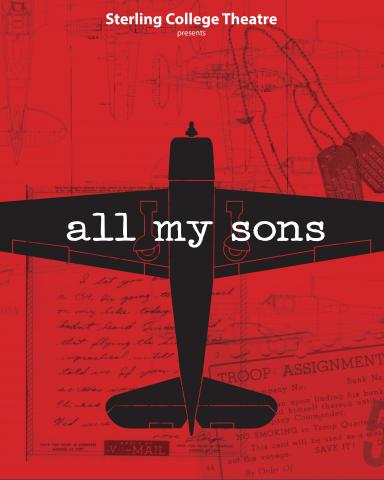 Wednesday, November 8, 2017
The World War II scandal at an aeronautical company is the basis for Arthur Miller's play "All My Sons," a story that takes the audience through an emotion-filled journey as two families react over a soldier missing in action. "All My Sons" is directed by Sasha Hildebrand, assistant professor of theatre arts, and will run Nov. 17-18, 2017, at 8 p.m. and Nov. 19 at 2 p.m. in Culbertson Auditorium in Spencer Hall on the campus of Sterling College. Due to the content of this play, there will be a short talk-back session between the audience and the cast after Friday's performance. Parental discretion is encouraged.
"I couldn't be more proud of the students and their work on this show," said Hildebrand. "It's a huge departure for many of them to act in such a dramatic and highly emotional piece- but they are handling it with a sense of maturity and professionalism that I have rarely seen in such young actors. You can definitely sense their desire to challenge themselves and the audience with the very difficult circumstances that are dealt with in the play and leave people asking: 'What would I do in this situation?' That, to me, is what makes challenging and enticing dramatic theatre."
Miller, who wrote "The Crucible" and "Death of a Salesman," wrote "All My Sons" for Broadway in 1947. The play is based on a true story that took place between 1941-43 at Wright Aeronautical Corporation in Ohio. After the death of 21 pilots, the company was accused of knowingly producing faulty airplane parts that were put into use for the war. "All My Sons" follows two families who work for the aeronautical company as they deal with the fallout of the accusations and mourn for their son, who is missing in action.
Tickets are available at the box office on show nights for $10 for adults and $5 for seniors, students and children. The box office opens an hour before showtime, and doors open 30 minutes before showtime. Parental discretion is encouraged as some scenes contain intense situations.
The cast for "All My Sons" includes: Keith Erichsen of Garden City, Kansas, as Joe Keller; Elle Crook of Piedmont, Kansas, as Kate Keller; Micah Black of McPherson, Kansas, as Chris Keller; Becca Knauss of Abilene, Kansas, as Ann Deever; Dillon Cochran of Pratt, Kansas, as George Deever; Bobby Foster of Sterling, Kansas, as Dr. Jim Bayliss; Courtney Swanson of Corona, California, as Sue Bayliss; Jon Harding of Washington, Kansas, as Frank Lubey; and Katie O'Brien of Upland, California, as Lydia Lubey.