"Beau Jest" opens theatre season at Sterling College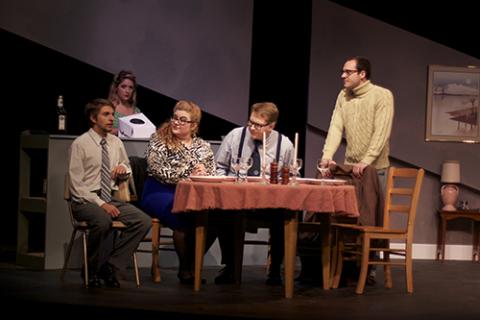 Wednesday, August 27, 2014
Directed by Sterling community member Samantha Kennedy, "Beau Jest" will begin the theatre season at Sterling College on Friday, Aug. 29, at 8 p.m. The romantic comedy by James Sherman will take place in Culbertson Auditorium Aug. 29 and 30 with the box office opening at 7 p.m., doors opening at 7:30 p.m., and the play beginning at 8 p.m. Tickets are available on show nights and will cost $10 for adults and $5 for students, children and seniors.
In "Beau Jest," Jewish teacher Sara Goldman is dating a Gentile, but her parents want her to marry a Jewish man. She decides to lie to her mother about her boyfriend, instead telling her parents that he is a Jewish doctor. Sara hires an actor to pretend to be her boyfriend during a Jewish celebration and finds out too late that he is not Jewish either. His experience acting in "Fiddler on the Roof" sets up a humorous situation that ends with an unexpected consequence.
The students performing in "Beau Jest" include: Bridgette Gibbs of Hutchinson, Kan., as Sara Goldman; Elijah Klein of Valley Center, Kan., as Chris Cringle; Shane Rogers of Peck, Kan., as Bob Schroeder; Carlton Ryker of Wichita, Kan., as Joel Goldman; Abbey Pickering of Clearwater, Kan., as Miriam Goldman; and Cody Martin of Hutchinson, Kan., as Abe Goldman.
Sterling College is a Christ-centered, four-year college located in Sterling, Kan., with a mission to develop creative and thoughtful leaders who understand a maturing Christian faith. For more information, visit www.sterling.edu.