"Godspell" opens on Thursday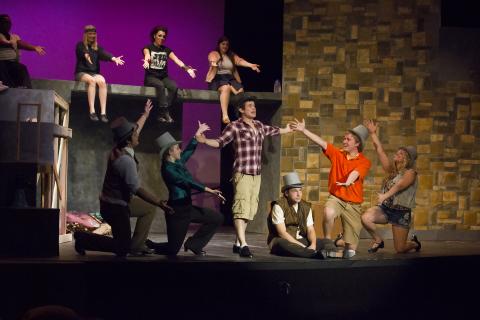 Tuesday, October 16, 2012
Under direction from Assistant Professor Matthew Winning, this year's Homecoming musical, "Godspell," will open Thursday, Oct. 18, at 8 p.m. in Culbertson Auditorium. The family-friendly show will run through Saturday, Oct. 20.
"John-Michael Tebelak wrote "Godspell" so each theatre company would create their own version," said Winning. "We are following the backbone created by Tebelak and Stephen Schwartz, but are not using the traditional "Godspell" designs and character portrayals. Traditionally, the story is told with clowns and hippies, but we aren't using them in our version. The cast and I are having a great deal of fun creating our own version of this wonderful story."
The two named characters, Jesus and John the Baptist/Judas, will be played by Shiloh Duff of Scott City, Kan., and Ryan Ehresman of Wichita, Kan., respectively. The ensemble is formed by Tillie Ehresman of Sterling, Kan., Taylor Fair of Sterling, Kan., Elijah Klein of Valley Center, Kan., Mandy Lee of Tulsa, Okla., Cody Martin of Hutchinson, Kan., Chelsey Moore of Wichita, Kan., Shane Rogers of Wichita, Kan., Raven Taylor of Wichita, Kan., Caleb Watney of Sterling, Kan., Chloe Wootton of Norco, Calif., and Amanda Xydis of Ann Arbor, Mich. Michael Redondo of Mira Loma, Calif., is stage manager with Megan Reed of Mullvane, Kan., as assistant stage manager and costume designer.
Tickets will be available at the box office Monday, Oct. 15, through Friday, Oct. 19, from 1-5 p.m. or may be reserved by calling 620-278-4305. On performance nights, the box office will open at 7 p.m. and doors will open at 7:30 p.m. All seating is reserved. Ticket prices are $8 for adults and $5 for students, children and senior citizens.