"Godspell" to perform in Wichita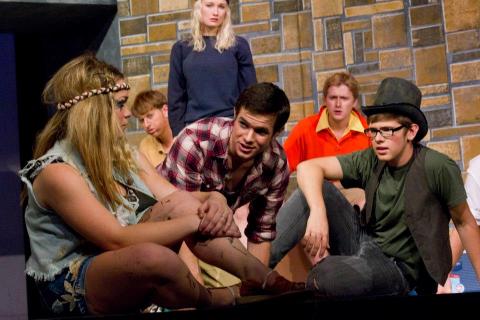 Wednesday, October 31, 2012
The curtain has closed for the cast of "Godspell" at Sterling College, but an encore performance will take place in Wichita at the Scenic Landscapes Water Garden Nursery on Nov. 2-3.
The students who performed the musical as part of Sterling College's Homecoming celebration will perform two dinner theatres to raise money for Challenge Farm orphanage.
The performances at Sterling College garnered much praise as the cast and Director Matthew Winning, an assistant professor of theatre at Sterling College, used the liberty given in the "Godspell" script to create a unique telling of the story of Gospel of Matthew.
"John-Michael Tebelak wrote 'Godspell' so each theatre company would create their own version," said Winning. "We are following the backbone created by Tebelak and Stephen Schwartz, but are not using the traditional "Godspell" designs and character portrayals. Traditionally, the story is told with clowns and hippies, but we aren't using them in our version. The cast and I are having a great deal of fun creating our own version of this wonderful story."
The two named characters in "Godspell," Jesus and John the Baptist/Judas, are played by Shiloh Duff of Scott City, Kan., and Ryan Ehresman of Wichita, Kan., respectively. The ensemble is formed by Tillie Ehresman of Sterling, Kan., Taylor Fair of Sterling, Kan., Elijah Klein of Valley Center, Kan., Mandy Lee of Tulsa, Okla., Cody Martin of Hutchinson, Kan., Chelsey Moore of Wichita, Kan., Shane Rogers of Wichita, Kan., Raven Taylor of Wichita, Kan., Caleb Watney of Sterling, Kan., Chloe Wootton of Norco, Calif., and Amanda Xydis of Ann Arbor, Mich. Michael Redondo of Mira Loma, Calif., is stage manager with Megan Reed of Mullvane, Kan., as assistant stage manager and costume designer.