"Golgotha Experience" comes to Sterling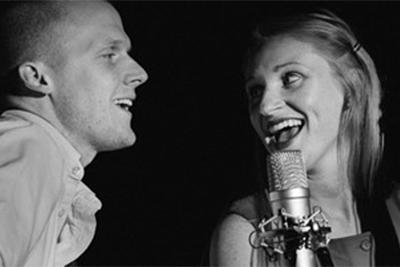 What began as a simple one-time Easter worship experience for a single church in Kansas City has come to be performed well over 50 times across the US and even internationally in England, Australia, and other countries. It is "The Golgotha Experience" written and performed by Sterling College alum Leah (Frees) Roberts '11 and her husband Jesse. They will be bringing their unique worship experience to Sterling College on Sunday, March 27 at 7 p.m. in Culbertson Auditorium. 
Written and composed in 2014, Jesse and Leah Roberts were inspired to create "The Golgotha Experience" to help people better understand the truth and importance of Jesus' crucifixion.
The Roberts composed fourteen, scripture-based original songs that invite the mind and heart to experience the Jesus' suffering in new ways. With original music at its core, "The Golgotha Experience" uses music, singing, powerful visuals, scripture, and guided prayer. The Roberts prove that worship can be more than preaching from a pulpit and reading scripture. Incorporating the arts – music, singing, visual arts helps worship come alive. 
Fifteen years ago, Ellsworth High School graduate Leah came to Sterling College with a heart for others, a love of music, and a strong Christian faith. She majored in Ministry and was active in leading worship and music while at Sterling. She has ended up using her major and her passions – ministering to others through the arts. She and her husband Jesse Roberts who is originally from Hutchinson married in 2013 and became "Poor Bishop Hooper."
"We're often asked about our band name," Jesse Roberts explained. "The short answer is we desired a name that was unique, creative, and pointed to Jesus in some way. Bishop John Hooper was an Anglican Bishop in the early 1500s. A reformer, he was martyred in 1555 and burned at the stake. The event was particularly gruesome, with the fire going out multiple times in the process. It's said to have taken his executioners far longer than normal to end his life. We're amazed at his story. His devotion to Jesus and his faithfulness even unto death is extraordinarily admirable. In some small way we wanted to honor this man with our name."
"We began as a duo, weaving together a patchwork of melodies atop an upright bass and a guitar, and since blossomed into numerous, multi-faceted expressions of music, art, and ministry," Leah Roberts said. "Though we still often perform classic covers and simple tunes in simple places, we've been blessed to develop a vibrant musical ministry - ranging from full band, heavy mood moments like that in "The Golgotha Experience," to the string and vocal laden scores of Firstborn, which centers on Advent. Our most recent project is our most ambitious yet, EveryPsalm which began last year and releases a psalm-based song each week… until all the psalms are sung again."
"We've shared music and conversation with thousands around the country, in the largest of concert halls to the smallest of living rooms," Jesse Roberts said. Together the Roberts have written well over 150 songs – most worship related. 
One recent project took them to the Nelson-Adkins Art Museum in Kansas City where they were asked to write original songs in celebration of Thomas Hart Benton artworks on display.  
Their Sterling appearance comes in the middle of their Spring 2022 tour which has taken them from Indiana, Illinois, Missouri to Nebraska, Oklahoma, and Kansas as well as several appearances in Kansas City. Joining them for the Sterling performance will be a drummer and an additional guitarist. 
The Roberts live in Kansas City with their 7-year-old twins Rufus and Ada and 4-year-old Phineas. The duo has performed their original work "The Golgotha Experience" well over 50 times across the country. Every year since 2014, they have toured with the presentation. In addition, they have published the work and others have performed it in the United States as well as internationally. 
Audience members seeing "The Golgotha Experience" for the first time have made comments such as "the most stunning musical experience reflecting on the Passion story I've ever seen or heard" and "absolutely breathtaking. I had goosebumps from the moment Leah sang her first note, then came the tears."
Lyons church, King's Cross, is bringing "Poor Bishop Hooper" to Sterling for the performance of "The Golgotha Experience." The one-hour production is open to the public and will be offered without charge for admission. A freewill offering will be taken.
Sterling College is a Christ-centered, four-year college located in Sterling, Kansas, with a mission to develop creative and thoughtful leaders who understand a maturing Christian faith. For more information, visit www.sterling.edu.