"Romeo and Juliet" comes to Sterling College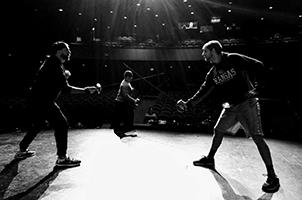 Tuesday, February 20, 2018
It's regarded as one of the most famous love story ever told, yet it has never been staged in Sterling, Kansas. Not at the Sterling High School, Sterling College or the Sterling Community Theatre. Until now. Shakespeare's "Romeo and Juliet" is being staged by Sterling College Theatre, featuring a mixture of college students, high school students, and community members from age 16 to 64.
"Romeo and Juliet" will be presented in Culbertson Auditorium on the Sterling College campus on Thursday, Friday and Saturday, March 1- 3, at 7:30 p.m. for the public. A special matinee for schools will be staged the following week on March 6.
Directing the production is Sasha Hildebrand '03, assistant professor of theatre arts and 2003 Sterling College graduate. She has professional theatre experience in Chicago, Texas, and Georgia and brings a wealth of knowledge with her to Sterling's theatre program.
To help Hildebrand stage Sterling's first production of "Romeo and Juliet," she called in some professional help.
"I like to think of this endeavor as our big 'Romeo and Juliet' experiment," explained Hildebrand. "The timetable has been extremely tight since we just finished 'Charlie Brown' on Feb. 4, and we've had limited time with our staging director and fight choreographer. In addition, if any show calls out for a multigenerational approach, it's this one. It's been a great challenge for all the students and our community performers."
Written around 1594, "Romeo and Juliet" features two young people who are kept apart by their feuding families. They decide to take fate into their own hands and pursue their love. Circumstances, however, conspire to thwart their efforts as missed chances, poor timing, and mistakes which prevent the lovers from finding happiness.
Hildebrand brought in two professionals to help with staging and fight choreography. Nate Wasson, a professional actor and director from Shreveport, Louisiana, has acted as stage director for "Romeo and Juliet." The fights were choreographed by Andrew D. Ray, a stage combat instructor and motion capture professional. The set design and lighting design was done by Sterling College Associate Professor of Theatre Stephen English.
Shane Rogers '15, is one of the community members in the play. He said, "'Romeo and Juliet' has had several different hands guiding it. … For me, it's been the number of artists adding their vision and expertise that has really made this a truly unique experience."
Tickets for "Romeo and Juliet" are $10 for adults and $5 for students and will be available at the box office before each performance.
In addition to the three evening performances, there will be a special school matinee on Tuesday, March 6, at 12:45 p.m. School groups interested in attending either matinee free of charge should contact theatre@sterling.edu or call 620-204-8211.
Sterling College students involved in the play include: Ardyn Brooks of Lyons, Kansas, as Juliet; Seth Rogers of Wichita, Kansas, as Romeo; Isaac Peña of Dodge City, Kansas, as Tybalt; Landon Rhoadarmer of Clearwater, Kansas, as Paris; Preston Nichols of Sterling, Kansas, as Prince and Tybalt; and ensemble members Patrick Chuzel of Corona, California; Nick McCreight of Spring Hill, Kansas; Xavier Madrigal of Newton, Kansas; Marshall Williford of McPherson, Kansas; Jack Jones of Overland Park, Kansas; Bobby Foster of Sterling, Kansas; Courtney Swanson of Corona, California; Alexis Engelken of Wamego, Kansas; Kayla Claussen of St. John, Kansas; Kyra McGuire of Wichita, Kansas; Lindy Smith of Sharon Springs, Kansas; Alyssa Landeros of Chino, California; Kaleigh Pitre of Emory, Texas.
Community members who will perform in "Romeo and Juliet" include: Shane Rogers as Mercutio; Jacob Pieplow as Benvolio; Assistant Professor of Theatre Arts Sasha Hildebrand as Nurse; Marcus Mull of Lyons, Kansas, as Friar Laurence; Brian Foster as Lord Capulet; April Zahradnik-Brooks as Lady Capulet; Larry Brownlee as Lord Montague; and Amy Brownlee as Lady Montague. Ensemble members include Cody Brooks and Ron Edwards.
Sterling College is a Christ-centered, four-year college located in Sterling, Kansas, with a mission to develop creative and thoughtful leaders who understand a maturing Christian faith. For more information, visit www.sterling.edu.