"Words and Music" to open Feb. 1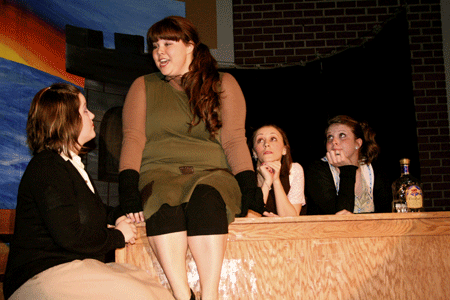 The first musical performance for 2013, "Words and Music by Rodgers and Hammerstein," will take place on Friday and Saturday, Feb. 1 and 2. The hour and a half, kid-friendly production will take place in Cornerstone in the Sterling College Student Union at 7 p.m. The event is free and open to the public.
"We are excited about performing in Cornerstone this year because of the intimate atmosphere," said Mark Clark, assistant professor of music. "The students have been working really hard over interterm to learn new material and how to perform in this new setting. They have also had a lot of fun with the music, which a lot of people will recognize from Rodgers and Hammerstein's musicals such as 'Oklahoma,' 'South Pacific' and 'The Sound of Music.'"
Students performing in the show include: Ryan Bretches of Great Bend, Kan., Katelynn Cantrell of Ulysses, Kan., Ryan Ehresman of Wichita, Kan., Rachel Gardner of Topeka, Kan., Reid Goffigon of San Francisco, Calif., Sarah Grafel of Herndon, Kan., Ashley Hasart of Norco, Calif., Elijah Klein of Valley Center, Kan., Mandy Lee of Tulsa, Okla., Ashley McHenry of Great Bend, Kan., Chelsey Moore of Wichita, Kan., Stephen Newby of Columbia, Mo., Janny Ourn of Liberal, Kan., Shane Rogers of Wichita, Kan., Taylor Stucky of Pretty Prairie, Kan., Phil Taylor of Norco, Calif., Raven Taylor of Wichita, Kan., Kayla Van Nover of Wichita, Kan., and Cassidy Woodard of Abilene, Kan.