"You're a Good Man, Charlie Brown" set for Feb. 1-4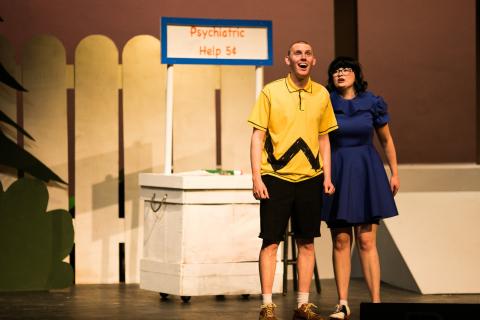 Wednesday, January 31, 2018
The lovable gang based on Charles M. Schultz's comic strip "Peanuts" will find their way to Culbertson Auditorium Feb. 1-4 as Charlie Brown, Lucy, Sally, Linus, Snoopy and Schroeder entertain audience members of all ages. "You're a Good Man, Charlie Brown" will show at 7:30 p.m. on Feb. 1-3, and at 2 p.m. on Feb. 4. The public is invited to attend as Assistant Professor of Music Mark Clark directs the cast in this family-friendly musical.
"The audience will truly enjoy 'You're a Good Man, Charlie Brown' no matter the age. With great music woven into a classic stories reminiscent of the 'Peanuts' comic strip, our cast has a lot of fun performing kite-flying, daydreaming, the psychiatrist's booth, baseball, and more," said Clark.
Tickets are on sale at the Sterling College Box Office by calling 620-278-4279. Patrons will either speak to a box office employee or leave their name and phone number and their call will be returned. With the earlier showtime, tickets can also be purchased on show nights an hour before the show at 6:30 p.m. Feb. 1-3 and 1 p.m. on Feb. 4. Doors to the theatre open at 7 p.m. Thursday-Saturday and 1:30 p.m. on Sunday.  Tickets are $10 for adults and $5 for students, children, and seniors.
Two special performance will take place on Wednesday, Jan. 31, at 1 p.m. and Friday, Feb. 2, at 9 a.m. for local school children. These performances will be shortened for a younger audience, and will not include the entire musical.
Students performing in "You're a Good Man, Charlie Brown" include: Will Dutton of Sterling, Kansas, as Charlie Brown; Elle Crook of Piedmont, Kansas, as Lucy Van Pelt; JoJo Maxwell of Corona, California, as Sally Brown; Micah Watney of Sterling, Kansas, as Linus Van Pelt; Matt Scharff of Tonganoxie, Kansas, as Snoopy; and Keith Erichsen of Garden City, Kansas, as Schroeder.
Sterling College is a Christ-centered, four-year college located in Sterling, Kansas, with a mission to develop creative and thoughtful leaders who understand a maturing Christian faith. For more information, visit www.sterling.edu.