10 year service awards given at Sterling College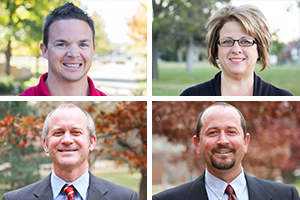 Jack Dillard '03, Renee Dodson, Andy Lambert and Chuck Lambert completed 10 years of service to Sterling College. They were recognized for their service at Sterling College's Kickoff Banquet on Monday, Aug. 4.
Dillard has served as head coach for the men's and women's cross country and track teams for twelve seasons.
"Jack built both a quality cross country and track program at Sterling College. As a student, he was named football's most inspirational player and it is clear that his ability to inspire has carried over into his coaching career," said Gary Kempf, athletic director.
In 2008, Dillard was named NAIA Region 4 Coach of the Year at the NAIA Outdoor Track and Field Championships. He coached Sterling College's first and only NAIA National Champion in the 110 hurdles, Cedric Smith, in 2013. This season, he led three players to nationals, including All-American Ashley Stanford who placed sixth in the triple jump.
He graduated from Sterling College in 2003 with double major in computer science and business administration. He and his wife, Kimberly '03, have two children.
Dodson is the administrative assistant for the Office of Academic Affairs. She assists the academic dean, associate deans, academic department chairs and faculty of the College. She oversees planning of convocations and the College's commencement ceremonies. She also provides support to the various committees under the Office and manages all academic budgets.
"Renee is a great asset to academic affairs. She is reliable and produces quality work that keeps our office running efficiently. She is also great at making new faculty feel welcomed and has a natural desire to help others," said Dr. Gregory P. Kerr, vice president for academic affairs.
Dodson and her husband, Jim, live in Sterling with their daughter.
Head Football Coach Andy Lambert has served 10 of his 16 years as a head football coach at Sterling College. He has a winning record of 58-45 at SC and led the Warriors to a record nine wins in a season in 2013. His team has made it to top three in the KCAC for six seasons and concluded last year with the first KCAC Conference Championship in SC history. A. Lambert won KCAC Coach of the Year in 2004, 2007 and 2013. He has also served as a member of the president's cabinet for a number of years in his role as athletic director.
"Andy spends hours on and off of the field with his players and is a great role model. His motto of 'compete regardless' pushes his players to dig deep and persevere through tough times – a lesson they remember beyond their years at SC," said Kempf.
A. Lambert and his wife, Betsy, have four daughters. Betsy works for SC as the recruiting specialist for Sterling College Online.
Chuck Lambert is the defensive coordinator for football. In 2010, his defense was ranked 17th in the NAIA in scoring defense. In 2013, his team was ranked first in the KCAC for the second straight year in a row. His coaching awards include 2011 AFCA Assistant Coach of the Year and KCAC Assistant Coach of the Year in 2010.
"Chuck is an outstanding defensive coordinator and has earned the respect of his fellow coaches and players. The hard work and commitment that he brings out of his players is impressive and shows how highly they regard his leadership," said Kempf.
C. Lambert and his wife, Kim, have five children.
Sterling College is a Christ-centered, four-year college located in Sterling, Kan., with a mission to develop creative and thoughtful leaders who understand a maturing Christian faith. For more information, visit www.sterling.edu.