18th annual Sterling College Warrior Wood and Wedge Tournament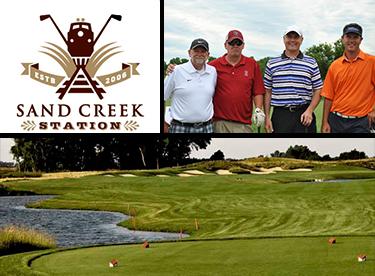 The Sterling Athletic Department hosted the 18th annual Sterling College Warrior Wood and Wedge Tournament in North Newton, Kan. at the beautiful Sand Creek Station golf course on Monday, June 23rd.
This year's tournament saw 108 golfers take the course for one of the biggest groups to play in the Warrior Wood and Wedge tournament. Golfers were broken into pairings of four for a two flight best ball 18 hole scramble. The  course saw numerous hole challenges including longest drive, longest putt, closest to the pin, and the ever so elusive hole-in-one with the winner winning a brand new car from Midway Motors.
"We had an absolutely great day at the Warrior Wood and Wedge today," said Athletic Director Gary Kempf, "The weather was great, the team's played some great golf and we all came together to support the further development of our Warrior athletic department.  . . another great day to be a Warrior!"
The tournament was won by Sammy Lane, Brian Langlais, Mike McMahon, and Justin Morriswho scored a 52 on the day in the scramble format.  Grant Norris, Grier Jones, Guy Quinn, and Eric Johnson, finished with a 53 in second place.
The second flight was won by Jarrod Rowland, Travis Surface, Rick Stallings and Jarret Wohler with a score of 63. The First Bank team made up of Jeff Laudermilk, Kevin Laudermilk, Derek Schneider, and Drew Lott tied for first in second flight but lost on a tiebreaker. 
The following participants also won hole contests at the tournament:  Sam Schulte, longest drive; Tom Swain, closest to the pin; and the longest putt winner was Isaac Perez.
"We would like to also thank our corporate sponsors IMA, Associated Imaging Services and Lyons State Bank for their continued support," said Tournament Director Justin Morris, "This tournament continues to grow with the help of our corporate and business sponsors. Also not to forget everyone to participates and supports our silent auction."
All proceeds from this outing will be used to develop and refurbish training facilities at Sterling College, assist individual programs with special needs, provide scholarships and aid for students, and help provide other opportunities to student-athletes and athletic programs at Sterling.