2013 Football All-Conference Awards Announced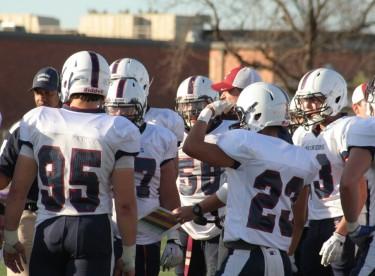 Tuesday, January 14, 2014
The KCAC announced on Tuesday, November 19 the 2013 KCAC Football All-Conference Teams and Individual Award Winners. Coming off their historic 2013 season, the Warrior Football team has a clean sweep of the coaching staff of the year, one KCAC special team player of the year, and 17 players winning individual team awards.
Sterling finished with a 9-2 overall record with an 8-1 KCAC conference record and finished with a No. 13 ranking in the NAIA football poll. Head Football Coach Andy Lambert won the 2013 Coach of the Year and Assistant Coaches Chase Hansen and Brett Clow share the 2013 Assistant Coaches of the Year.
Antonio Bray won the KCAC Special Teams Player of the Year with his unbelievable play in his first year as a part of the Warriors offense. Bray finished with 820 yards off of kick offs with three touchdowns.
The Warriors also had a plethora of players being named to the All-Conference Awards:
First Team Offense:
Kyle Finder 
First Team Defense:
Kris Lehmann
First Team Special Teams:
Antonio Bray
Second Team Offense:
Reggie Langford
Dentton Hudspeth
Antonio Bray
Second Team Defense:
Adam Guthmiller  
Second Team Special Teams:
Eddie Juarez
Honorable Mention:
Mike Dewitt
James Morley
Zach Beims
Gabe Dierksen
Eddie Juarez
Antonio Bray
Matthew Schmidt
Jordan Coleman
Roy Abousamra