5 Years of Service awards given at Sterling College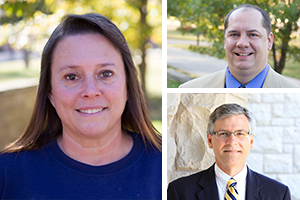 Three employees were recognized for five years of service to Sterling College during the annual Kickoff Banquet on Monday, Aug. 4. Lesa Plinske, Dr. Marvin Dewey and Will Teufel completed their fifth year at Sterling over the 2013-14 academic year.
Plinske has worked as a housekeeper for the Service Department. She is in charge of the upkeep and care for Campbell Hall, Douglas Residences, Evans Hall, Wilson Hall, and the Art and Media Center.
Dewey is the associate vice president for the Office of Institutional Advancement. He works closely with donors and campus leadership on special projects and to secure major private gifts from individuals, foundations, companies and churches.
Teufel is director of online programs for Sterling College Online. He coordinates with online instructors to ensure classes run smoothly and is responsible for instructional design.
Sterling College is a Christ-centered, four-year college located in Sterling, Kan., with a mission to develop creative and thoughtful leaders who understand a maturing Christian faith. For more information, visit www.sterling.edu.