Adam Anderson to open exhibit at Sterling College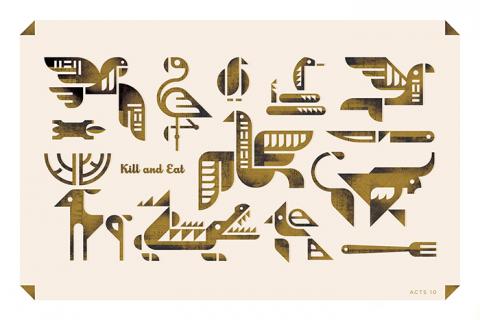 Wednesday, September 11, 2013
Wichita artist Adam Anderson will exhibit his artwork in the Sterling College Art and Media Center gallery Sept. 19 – Oct. 10. The exhibit of graphic design work will open with a reception with Anderson on Sept. 19 from 5-7 p.m. The public is invited to attend.
Anderson has worked as a graphic designer for approximately seven years, most recently at Gardner Design where he designs brands for companies around the world.
"I am excited to show the [Sterling College] students and community examples of the variety of design and illustration [that exists] when you have the unique privilege of working with different clients on a daily basis," said Anderson.
Anderson has won multiple awards from the American Institute of Graphic Arts and American Advertising Awards from the American Advertising Federation. The American Advertising Awards, formerly named the ADDY Awards, is the advertising industry's largest competition honoring advertising excellence in all media including print, broadcast, out-of-home and public service advertising. He is also published in numerous design books and magazines, including Logolounge 5, 6, 7 and 8, and Logopond, Vol. 1.
Anderson is a graduate of The Creative Center in Omaha, Neb. He earned his degree in graphic design and illustration. He lives in Wichita with his wife, Amy, daughter, Ollie Lu, and bulldog, Bruce.
Sterling College is a Christ-centered, four-year college located in Sterling, Kan., with a mission to develop creative and thoughtful leaders who understand a maturing Christian faith. For more information, visit www.sterling.edu.
CUTLINE: This piece by Adam Anderson will be on display with his other graphic design work in the gallery of the Sterling College Art and Media Center from Sept. 19 – Oct. 10. The public is invited to attend the opening on Sept. 19 from 5-7 p.m.