Adamyk, Wilgers named 2018 Outstanding Graduates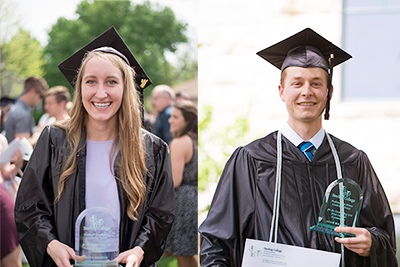 With four years of hard work and service behind them, Sterling College seniors Anna Adamyk of McPherson, Kansas, and Adam Wilgers of Elbing, Kansas, were named the 2018 Outstanding Female and Male Graduates in conjunction with the Fran Jabara Leadership Award.
The awards are given to two students who exemplify outstanding academic achievement, leadership skills and involvement, and who portray an enthusiastically Christian faith. They must have a cumulative GPA of 3.4 or higher and are voted upon by faculty and staff.
Adamyk earned her Bachelor of Arts in Communication and Media Arts: Journalism, graduating with honors of magna cum laude and Kelsey Scholar. During her time at Sterling College, she published several articles through "The Stir" and SC TV, the College's student news venues, has served on the Campus Activities Board, and was actively engaged in the campus community.
"Anna exemplifies the heart of Sterling College in her diligence and service," said Emilie Heinl, CAB adviser. "She not only works hard academically, but strives to serve others through her words of encouragement and love for campus events. She continually brightens Sterling College with her love for Jesus, shown through how she loves others."
Wilgers completed his Bachelor of Science in Biology and a minor in Criminal Justice with honors of magna cum laude and Kelsey Scholar. He served the College as president of the Student Government Association for 2017-18, and served for two years on the Love Sterling planning committee. He was also a student worker in the mail room.
"Adam is the kind of person I would most like to have on my team," said Brian Foster, mailroom supervisor. "He has a demonstrated ability to interact well with all age groups. He deals with sensitive situations swiftly and effectively. He embodies the servant-leader attributes in his desire to serve community and nation, through teamwork, consensus building, action and demonstrated service. He is the finest work study student employee I have had in my 13 years of experience, among the many great students with whom I have enjoyed working."
The Professor Fran Jabara Leadership Award was established in 2002 by Professor Fran Jabara, former Dean of the Wichita State University College of Business Administration, and recognizes graduating seniors from four-year, private Kansas colleges who display exemplary leadership skills.
Sterling College is a Christ-centered, four-year college located in Sterling, Kansas, with a mission to develop creative and thoughtful leaders who understand a maturing Christian faith. For more information, visit
www.sterling.edu
.