Alumni College to be held on Oct. 19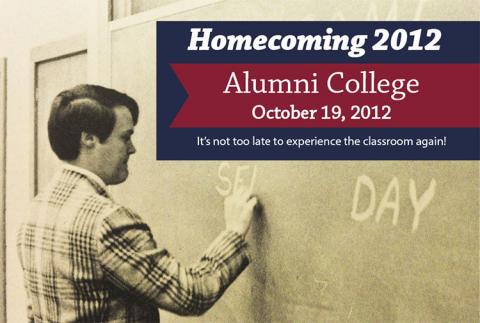 Wednesday, October 10, 2012
The first Alumni College will be part of this year's 125th anniversary activities during the Homecoming weekend. Alumni and friends of the College who want to relive the past can choose from a list of topics that they would like to learn about on Friday, Oct. 19.
Fourteen current and former professors will teach an assortment of sessions beginning at 9:00 a.m. Participants can choose up to five classes, each 50 minutes in length.
Two special sessions will take place at 1:10 p.m. and 2:10 p.m. The first session, "Art is Forever," will be taught by former professor Gordon Zahradnik. Zahradnik was the department chair for art and design at Sterling College for 26 years and taught drawing, painting, watercolor, color, and design. He has 42 years of art education experience and resides near Lyons, Kan.
The second special session, "Classical and Modern Liberalism," will be led by former professor George Stone, who taught at Sterling for 19 years. He was actively involved in the history and government, education, and philosophy departments, including serving as department chair for the Department of Education, the Division of Humanities and Department of History and Government at different times. Stone is currently teaching world history for Columbia College Online.
A full list of classes, times and professors is available in the Homecoming section of the Sterling College website, sterling.edu/alumni-college. Alumni who would like to participate can sign up online or by calling Melissa Wisner at 620-278-2173. Advanced registration is encouraged to ensure large enough classroom spaces.