Area high school students get taste of Sterling College art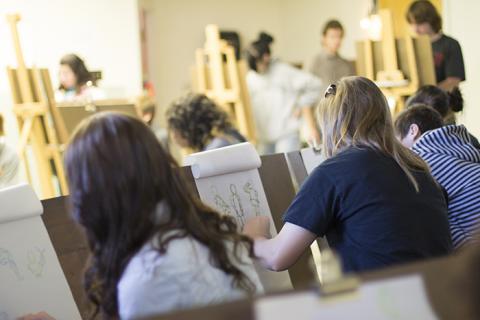 Wednesday, November 20, 2013
Over 90 area high school students interested in art met at the Sterling College Art and Media Center on Friday, Nov. 15, to learn about painting techniques, color mixing, digital painting, hand lettering and figure drawing. Under the guidance of Sterling College art faculty and majors, the visiting students spent the day learning various skills and exploring new areas of art.
"When planning the art workshops, we focus on introducing concepts or techniques that students may not have experienced in their high school art classes. We want this to be a chance for students interested in art to deepen, or at least broaden, their skill-set. This event also allows us to showcase the different concentrations in our department and the opportunities we have that are unique to Sterling College," said Daniel Swartz, assistant professor of art and design.
High schools that attended the workshop include: Buhler High School, Eureka High School, Haven High School, Kinsley High School, Lyons High School, Moundridge High School, Ness City High School, Nickerson High School, Oxford High School and Peabody High School.
Sterling College is a Christ-centered, four-year college located in Sterling, Kan., with a mission to develop creative and thoughtful leaders who understand a maturing Christian faith. For more information, visit www.sterling.edu.