Art Gallery exhibits "Leftovers for Dinner"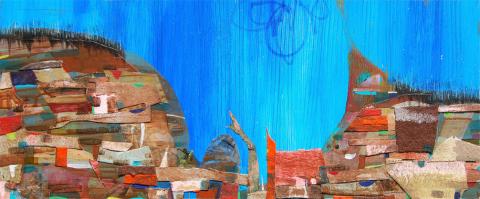 Wednesday, October 17, 2012
Artist Kevin P. Kelly will display "Leftovers for Dinner" in the gallery of the Sterling College Art Center Oct. 18-Nov. 6. The exhibit of paintings and drawings will open Thursday, Oct. 18, from 5-7 p.m. with an artist talk from Kelly at 5:30 p.m.
Kelly, an emerging artist based in Wichita, Kan., created the body of work to be displayed over the past three years. Unified through a collage aesthetic, the artwork explores the conflict between artistic gesture and mundane elements of daily landscape.
"[My work] documents what happens when nacho cheese Doritos and paint drips fight for dominance. Dirty laundry is pitted against a beautifully laid wash. Elegant brush strokes wrestle with the textures of breakfast cereal," said Kelly. "[My art] continues to be fed by many strong influences: teaching art for the last 12 years in a low-income high school, domestic life in a low-income neighborhood, the culture of cheap consumption, the severe landscape of south central Kansas and an austere Midwestern value system."
Kelly earned his B.A.E. and M.F.A. in Painting from Wichita State University. The Colorado native has had his work appear in many exhibits and publications, including the magazine New American Paintings, Western Edition #90.
The gallery in the Sterling College Art Center is open Monday-Friday from 8 a.m.-5 p.m. It will also be open for Homecoming on Saturday, Oct. 20 from 9 a.m.-9 p.m.