Athletic training student accepts internship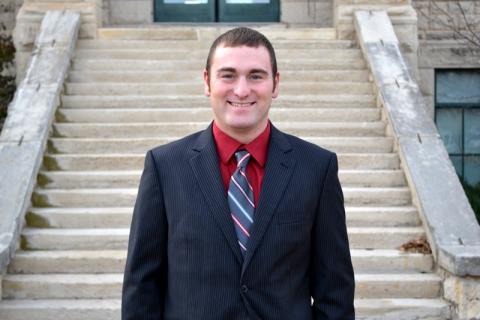 Friday, December 14, 2012
Working hard to pursue passions often opens the door for unexpected opportunities and experiences. Such was the case for senior Andrew Drake of Craig, Colo., who was recently recognized for receiving his certification in athletic training. Following certification, Drake is now able to practice as certified athletic trainer and can begin working professionally.
Following his certification, Drake will be completing an internship at Disney's ESPN Wide World of Sports at the Walt Disney World Resort in Orlando, Fla., from Jan. 2 to May 10, 2013. Putting on more than 200 events each year, Disney Sports is focused on providing students the opportunity to take sports and competition to the next level.
Drake was first introduced to the internship opportunity by Director of Athletic Training Pete Manely who has a working relationship with the head athletic trainer at Disney Sports. Manely said, "Disney Sports is a spring-long internship working with all kinds of sports and age groups. It is long hours, but tons of experience."
"Andrew has had a great last two semesters within our program," said Manely. "He has really stepped up academically and clinically. His excitement for athletic training and his future has been fun to watch and after passing his exam on the first time is at an all-time high. I wish Andrew all the best of luck working at Disney's Wide World of Sports, and can't wait to see where he will be attending graduate school in the fall."
Drake is very excited about his internship opportunity, but is also a little nervous. "While I will be doing something familiar, it will still be a very new experience," said Drake. "The best part is that it will be really great practice and experience for a graduate position."
"I think that the experience and opportunities that I have had at Sterling College have adequately prepared me for this upcoming internship and for my future graduate studies," said Drake.
Sterling College is celebrating 125 years as a Christ-centered, four-year, liberal arts college located in Sterling, Kan. Since 1887, Sterling has provided quality academics with a mission to develop creative and thoughtful leaders who understand a maturing Christian faith. For more information, visit www.sterling.edu.