Athletic training students earn honors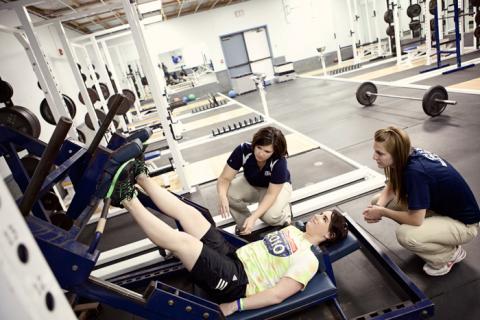 The Kansas Athletic Trainers' Society named 12 Sterling College students on the list of academic honors recipients. College and university students from across Kansas must show outstanding achievement through the calendar year to qualify for the list.
Pete Manely, director of SC's Athletic Training Program, said, "Every year our students work hard and take their coursework seriously. We have a great group of students, and I am proud of the effort they put forth to earn these awards. We appreciate the Kansas Athletic Trainers' Society for recognizing their efforts."
Students receiving KATS First Team All-Academic honors must be a junior or above with a minimum grade point average of 3.8. Sterling College students receiving this honor are Robin Flowers of Meade, Kan., Brennen Hodge of Mesa, Ariz., and Lacey Rhoads of Phoenix, Ariz.
Three SC students earned Second Team All-Academic honors. These students are a junior or above with a minimum GPA of 3.6. Students include Darius Alexander of Little Rock, Ark., Jordan Getting of Hutchinson, Kan., and Dani (Burk) VanVelhuizen.
KATS Honorable Mention All-Academic honors are awarded to students who are a junior or above with a minimum GPA of 3.4. Sterling College students who were given this award include Lori Dauer of Lindsborg, Kan., Alyssa Kieffer of Clifton, Kan., Beckie Smiley of Burrton, Kan., BJ Smith of Skiatook, Okla., Sara Steria of Bend, Ore., and Mike Utter of Phoenix, Ariz.
All grade point averages were figured using the average of their spring GPA, fall GPA and cumulative GPA.
The Kansas Athletic Trainers' Society helps assure top quality health care to the physically active in Kansas, and promotes and increases knowledge of the profession of athletic training to the citizens of the state of Kansas.