Athletic Training Students Gain Experience at NAIA Nationals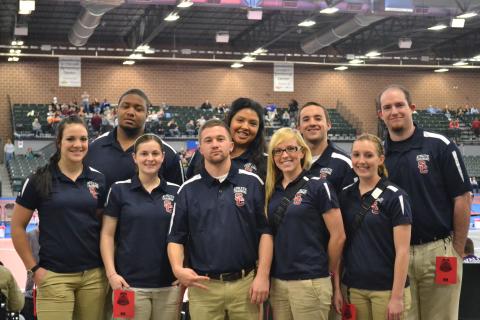 Wednesday, March 28, 2012
Nine students in the SC athletic training program were invited to Grand View University in Des Moines, Iowa, to help cover the mats at the NAIA National Wrestling Championship.
Erin Laudermilk, assistant professor of athletic training, was drawn to the event through a conversation with former SC colleague Luke Steele, whose staff at Grand View had the challenge of covering the large NAIA event. With six wrestling mats live at a time, Grand View's trainers were going to be spread thin.
"We talked about what a great experience this would be for our students, so Luke and the Athletic Director at Grand View arranged for us to go and help provide medical coverage for the event," said Laudermilk.
Currently, Sterling students only see wrestling at the high school level during their clinical experiences, so working at the collegiate level was a rare opportunity. In addition, their time in Des Moines gave students the chance to work professionally and as a team with other students, certified athletic trainers, chiropractors and orthopedic doctors. The visit opened the door to possible summer internships, graduate assistant positions, and potential jobs.
"In speaking with other certified athletic trainers at the event," said Laudermilk, "all were impressed with our students' professionalism, knowledge and excitement. They thoroughly enjoyed working with each of them."
The first year students who represented Sterling College are DeVon Bryant of South Haven, Mich., Brennan Hodge of Chandler, Ariz., Nicci Navarro of Covina, Calif., Beckie Smiley of McPherson, Kan., and Sara Steria of Bend, Ore. The second year students who were in attendance are Dani Burk of Wichita, Kan., Jordan Getting of Hutchinson, Kan., Josh Greenlee of Raytown, Mo., and Lacey Rhoads of Peoria, Ariz.