Athletics names head men's soccer coach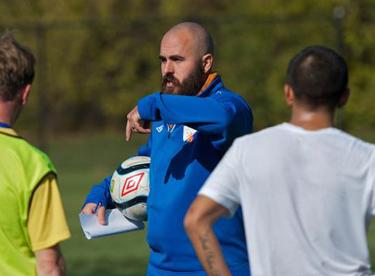 Athletic Director Gary Kempf named Brandon Ponchak the next Head Coach of the Sterling College Men's Soccer Program on Monday. Ponchak, an Ohio native, inherits a team that finished tied for fifth with a 4-4-1 record in the KCAC.
"We are excited to welcome Brandon into the Sterling family," said Kempf. "Coach Ponchak brings a tremendous knowledge of the game to our program and will rely on his background in Theology to provide leadership and guidance to the young men in our program."
Ponchak comes to Sterling via Ohio, where he most recently served as the first Head Coach of Zanesville Athletic FC, a top level amateur team in Zanesville, Ohio. Zanesville Athletic FC will compete in its first season in the NPSL this summer.
While in Ohio, Ponchak has also been serving as a graduate assistant with the Bluffton University Men's Soccer Program in Bluffton, Ohio. During his time in Bluffton, Ponchak recruited two of the largest incoming freshmen classes for the NCAA Division III program. In his two seasons, Ponchak has coached three All-Conference players and two All-Sportsmanship honorees.
Prior to his stint with Bluffton University, Ponchak spent two years as a graduate assistant with the Dakota Wesleyan University Men's and Women's Soccer Programs. In his two seasons with Dakota Wesleyan, Ponchak helped the DWU men to its first-ever conference tournament semifinal and helped the DWU women to its first-ever soccer conference title, tournament title, and national tournament appearance. While at Dakota Wesleyan, Ponchak coached 20 All-Conference players, one NAIA All-American, and three Daktronics-NAIA Scholar-Athletes.
"I would like to thank Mr. Kempf for giving me the opportunity to lead student-athletes here at Sterling," said Ponchak. "I look forward to developing the young men in our program into excellent athletes, excellent students, and excellent servants for our Lord, Jesus Christ."
Ponchak holds a Bachelors of Arts in Bible/Theology: Pre-Seminary from Asbury University, a Master of Arts in Educational Policy and Administration from Dakota Wesleyan University and a Master of Arts in Business Administration from Bluffton University.