Baseball players named NAIA All-Americans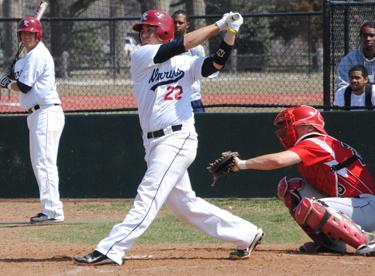 The National Association of Intercollegiate Athletics (NAIA) has announced the 2013 NAIA Baseball All-America teams, selected by the NAIA-Baseball Coaches Association (NAIA-BCA) All-America Selection Committee. Three Warriors were named to the NAIA Honorable Mention All-America team. KCAC Player of the Year Joe Williams headlines the group for Sterling. Daniel Cloteaux and Joe Battaglia were also named to the team.
Williams makes the team after finishing the year 12th overall in the NAIA in total doubles and 14th in total runs scored. In his senior campaign, Williams was the spark at the top of the Warrior lineup that set the tone for Sterling's offense.
Cloteaux was named to the NAIA Honorable Mention All-America Team for the second straight season. The Warriors' ace, Cloteaux finished the year with a 10-4 record and a 3.28 ERA. Cloteaux's 10 wins ranks him 18th in the NAIA in wins.
Battaglia is named to the team after his first season with Sterling. The power hitter in the Warrior lineup, Battaglia ranked seventh in the NAIA in total RBI with 63 and ranked 18th in batting average with a 0.407 average.
Sterling finished the season with a 48-14 record, making the team's first ever trip to the Avista-NAIA World Series.