Baseball reaches 40 wins in back to back seasons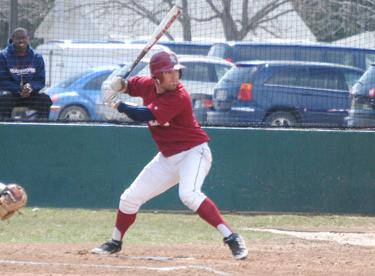 With a 6-1 win over McPherson College on Friday night, Sterling College earned its second straight 40 win baseball season under the tutelage of Head Coach Adrian Dinkel. The Warriors jumped up on McPherson 2-0 in the first inning and never looked back on the way to maintain their hold of the top spot in the KCAC standings. The Warriors picked up their 40th win this year on Apr. 26, two days sooner than in their 45-14 finish to the 2012 season. Sterling still has three games remaining in the KCAC Regular Season and a guaranteed two games in the KCAC Championship Tournament. This Warrior team still has the opportunity to beat the wins record set by last year's club.
Daniel Cloteaux (8-3, 2.50 ERA) picked up the complete game, four hit win for Sterling. The sole run given up by Cloteaux was on a solo homerun in the bottom of the ninth to Andrew Pina.
The middle of the Sterling lineup once again showed why the Warriors are in the top 15 teams in the NAIA in RBI's. Jared Forbush and Joe Battaglia each knocked in two runs while Anthony Stewart and Daniel Hall had one RBI each. Stewart led Sterling at the plate, going four for four with three runs scored to go along with his RBI.
Weather became a factor in the late innings of the game and temperatures and moisture caused the second game of the double header to be postponed.
Game times and location for tomorrow's games is still yet to be determined. The two schools will check field conditions in the morning before making a call on where tomorrow's games will be played. Monitor www.scwarriors.com for information on the games in the morning.
With the win, Sterling improves to 40-11, 22-3 in the KCAC.