Baseball Stamps Ticket to NAIA World Series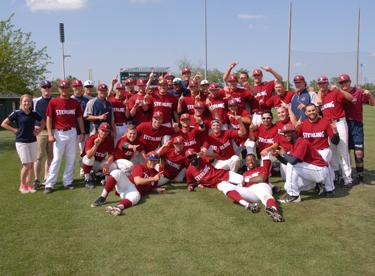 With a 1-0 victory over No. 2 Oklahoma City, No. 15 Sterling (Kan.) will make its first ever trip to the NAIA World Series. Sterling can now add the title NAIA Oklahoma City Opening Round Champion to the titles of Kansas Collegiate Athletic Conference (KCAC) Co-Champion and KCAC Tournament Champion. The Warriors held Oklahoma City, who is 14th in the NAIA with 7.085 runs scored per game, scoreless on just three hits on the way to a victory.
The 57th Annual NAIA World Series will be held on the campus of Lewis-Clark State College in Lewiston, Idaho on May 24-31. The Warriors will make their first ever appearance in the event and will be the first representative from the KCAC in the event. For more information on the NAIA World Series, click here.
Head Coach Adrian Dinkel sent Steven Cazares (9-1, 0.86 ERA), the KCAC Tournament Championship game winning pitcher, to the mound. Cazares turned in a masterful performance, holding the Starts to just three hits while walking three and striking out two in the complete game shutout win.
Cazares did not allow a hit until the third inning and did not allow a runner to third base until the top of the fifth inning. In the top of the fifth inning, Cazares faced five batters, which was the most he faced in any inning in the game.
With runners at second and third with two outs in the top of the fifth, Cazares got Kale Gaden, who ranks 35th in the NAIA in total RBI with 51, to strike out looking and end the inning.
The Warriors notched the only run of the game in the bottom of the second inning. Joe Battaglia opened the inning with a single and advanced to second when Andrew Clark was hit by a pitch. Daniel Hall laid down a sacrifice bunt to move Battaglia to third and Clark to second, setting up a battle between Ian Josh and Stars starting pitcher Shane Henderson (4-1, 1.33 ERA).
Josh delivered in the clutch situation, knocking a single up the middle and scoring Battaglia from the third. The run would prove to be the difference in the game.
After the fifth inning, Cazares allowed just three base runners and one hit the rest of the way to send Sterling to the NAIA World Series.