Baseball unveils new scoreboard for 2014 season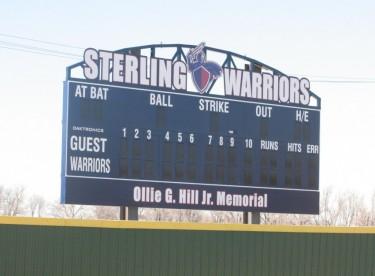 Thursday, February 6, 2014
The Sterling Baseball field has received another renovation with the addition of a 10 inning scoreboard thanks to a significant donation by the Hill family.
Over the past year and a half, Warrior field has had renovations done to the field to make it one of the most pristine parks in the KCAC. In the summer of 2012 the entire fence was demolished and was replaced by a tin fence around the entire field. The fence line now has eight-foot tall outfield fence complete with a 15-foot tall hitter's eye. The dimensions of the field are similar to the previous fence with center field at 395 feet, 315 down the left field line, and 305 feet down the right field line. Both power alleys play symmetrical at 365 feet.
The next phase of the renovation's was updating the home and visitor dugouts, the new dugouts now stretch to 50 feet with the entire dugout floor cemented. The dugouts will have a two tier bench, bat racks, and helmet cubbies on both sides.
The newest renovation was the addition of the 10-inning scoreboard in left center field. The new scoreboard will feature 10 inning's of play, stand just above the fence line, and will be able to be seen from all over the field. This beautiful scoreboard was made possible by a donation by Florence Hill, in memory of her late husband, Ollie, who played baseball at Sterling College during the 1940s. Florence and Ollie met at Sterling College.
The Warriors will play their first home game on February 14 when they host Wayland Baptist University. Sterling started their 2014 season with a three game series against St. Gregory's University and was able to take two out of three games from the Cavaliers during the series. First pitch against Wayland Baptist is scheduled for 12:00 pm.