Baseball wins KCAC Tournament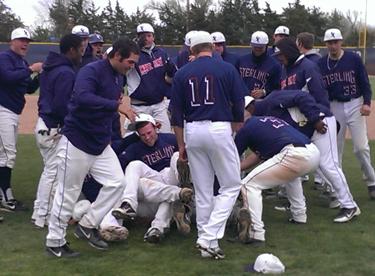 A four run first inning sparked Sterling to a 6-0 win over Tabor College at Hobart-Detter Field in Hutchinson, Kan. on Saturday afternoon. The win eliminated Tabor from the KCAC Championship Baseball Tournament and gave Sterling its second straight KCAC Tournament Championship.
The Warriors won on the back of a masterful pitching performance by Steven Cazares (7-1, 0.99 ERA), who pitched a complete game shutout. In his 9.0 innings of work, Cazares threw 123 pitches and gave up just five hits with five strikeouts while not allowing a Bluejay past first base until the ninth inning.
Sterling was led at the plate by Joe Battaglia, who went two for four with three RBI's. Andrew Clark was the only other Warrior to record an RBI in the game and went three for five.
Tabor pitcher Jacob Webb (3-3, 2.15 ERA) started out rocky by walking Joe Williams to start the game. Webb then followed by hitting Anthony Stewart with a pitch. Jared Forbush would bunt single to load the bases. Battaglia put the Warriors on the board with a bases clearing double and would then score on a Clark single.
Both pitchers would settle into a grove after the top of the first until Sterling struck again in the top of the fifth.
Forbush singled to start the inning and then moved to second on a Battaglia sacrifice bunt. Clark would then reach on a Tabor error that advanced Forbush to third. Daniel Hall would attempt a squeeze play, but his bunt would not allow Forbush to run from third. After Webb picked up the bunt and checked Forbush, the Tabor hurler would throw to first. On the throw, Forbush took off for home plate and was safe on a play at the plate. On the throw home, Clark advanced to third base. Jaysen Coleman would courtesy run for Ian Josh, who reached on a hit by pitch. Coleman would steal second and Tabor's catcher would miss his target, allowing Clark to score the final run of the inning from third.
Cazares would continue to work, and in the ninth inning, would get Tyler Kozlowski to fly out to end the game.
With the victory, Sterling wins its second straight KCAC Tournament Championship under Head Coach Adrian Dinkel after winning it second straight KCAC Regular Season Co-Championship. Sterling improves to 45-12 on the season, tying the single season wins record at Sterling set by the 2012 Warrior squad. The victory qualifies Sterling for the NAIA Opening Round to be played on May 9-13. The location of the Opening Round site that Sterling will play at will be announced at a later date by the NAIA.