Bassett named Associate Head Coach of Lady Warrior Basketball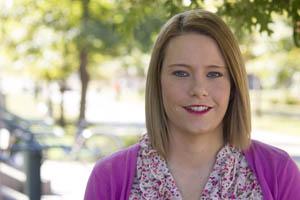 Wednesday, October 9, 2013
Sterling College Athletic Director Gary Kempf and Women's Basketball Head Coach Lonnie Kruse announced today that K.C. Bassett has been named associate head coach of the Lady Warriors and successor to Kruse upon his retirement.
"Coach Bassett has had the opportunity to learn from one of the best coaches in NAIA women's basketball," said Kempf. "Her experience with Coach Kruse has made her uniquely qualified to continue the success of the Lady Warrior basketball program upon the retirement of Coach Kruse."
Kruse, in his 33rd season at the helm of the Lady Warrior program, has had 30 winning seasons, has won 12 KCAC Regular Season titles, has been named KCAC Coach of the Year 11 times, and has made 16 trips to the NAIA National Tournament with Sterling and led Sterling to the Fab Four in 2002. With a record of 696-225, Kruse has the second most wins of any active coach in NAIA DII Women's Basketball.
During his coaching tenure, Kruse has produced 66 First Team All-Conference selections, 53 All-Conference Honorable Mention selections, 10 KCAC "Freshmen of the Year", 10 NAIA Honorable Mention All-America selections, two Third Team NAIA All-America, five Second Team NAIA All-America selections and one First Team NAIA All-America. Since 1989, Coach Kruse has also seen 42 different players become NAIA All-American Scholar Athletes.
Bassett played four years for Coach Kruse, earning All-KCAC First Team honors three times, being named KCAC Player of the Year her senior year, and being named to the NAIA All-America Third Team her senior year. Bassett is Sterling's all-time assists leader with 549 in her career.
The past five seasons, Bassett has served as an assistant coach under Kruse and has served as Sterling's recruiting coordinator during that time.
"I am humbled and honored by the vote of confidence from Athletic Director Kempf," said Bassett. "I look forward to continuing to learn from Coach Kruse and continuing the tradition of excellence that is Lady Warrior Basketball."
Sterling opens the 2013-2014 season on Nov. 8 at 5:00 pm in Winfield, Kan. with a neutral court game against Haskell Indian Nations University.
Sterling College is a Christ-centered, four-year college located in Sterling, Kan., with a mission to develop creative and thoughtful leaders who understand a maturing Christian faith. For more information, visit www.scwarriors.com.