Block party and tailgate at Warriorfest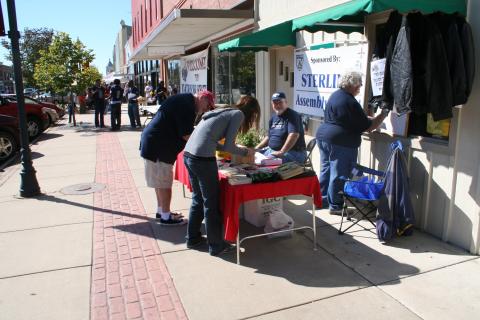 Tuesday, September 11, 2012
Warriorfest is this Saturday in Sterling and will feature a downtown block party, a free tailgate barbeque and three Warrior athletic contests.
The Warriorfest activities kick-off at 9:30 am on Saturday with the block party in downtown Sterling. Warrior athletic teams and businesses will have booths, there will be music, and the Warrior football seniors will be available to sign autographs. The party runs from 9:30 – 12:30.
At 1:00 pm, the Lady Warrior soccer team will take on Concordia (Neb.). The Lady Warriors will look to continue their perfect start to the season with a victory in the first home match of 2012.
The men's soccer team will face Concordia (Neb.) at 3:00 pm, following the conclusion of the Lady Warrior soccer game. Coach Jeff Kidd's squad will look to climb above 0.500 after splitting their first four games on the road.
Free food will be available at the Warrior tailgate party in the Smisor Stadium/Gleason Center parking lot starting at 4:45 pm before the football contest. Come early and grab some fresh grub that will be cooked by the Warrior coaching staff.
The evening closes with a 6:00 pm football game as SC plays host to Kansas Wesleyan University. After falling in their first two games of the season, the Warriors will look to get back on track against an opponent that is coming off a victory over the No. 11 team in the country and is now receiving votes in the NAIA Head Coaches' Top 25 Poll.
Warriorfest is a community event put on by Sterling College in conjunction with the Sterling Chamber of Commerce.