Boardman named Sterling College faculty emeritus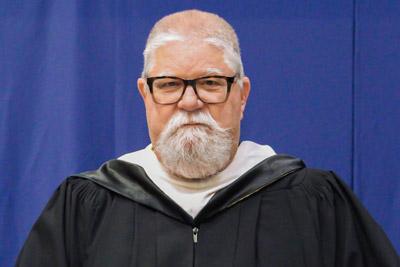 Sterling College honored Doug Boardman, associate professor of history, awarding him faculty emeritus status at the College's Commencement ceremonies on Saturday, May 6, 2023. Boardman now carries the title of Professor Emeritus of History at Sterling College.
In order to obtain Professor Emeritus status, a faculty member must have limited or terminated their responsibilities as a ranked faculty member for valid reasons (e.g. retirement), served for 15 or more years and reached a minimum of 60 years of age. Professor Emeritus status is designated and appointed by the Board of Trustees, after recommendation by the president, the vice president for academic affairs and the Faculty Status Committee.
"In his time at Sterling College, he has served on just about every committee possible, taught across the curriculum, and worked with students and colleagues on many projects. His leadership and sense of humor is appreciated by his colleagues and he will be remembered affectionately. In particular, Professor Boardman served as the chair of the General Studies Study Committee for many years until very recently. This is one of the workhorse committees with a heavy workload.  He chaired this committee with grace, humor, and kindness while always considering what was best for our students and the College. I am grateful for his steady and thoughtful leadership of this important faculty committee that is so vital to shared governance and the future of the College," said Dr. Ken Brown, vice president for academic affairs and dean of the College. 
Boardman joined the College in 2007 as an assistant professor of history. He earned his Bachelor of Arts and Master of Arts in History both from Fort Hays State University. 
Sterling College is a Christ-centered, four-year college located in Sterling, Kansas, with a mission to develop creative and thoughtful leaders who understand a maturing Christian faith. For more information, visit www.sterling.edu.