Book launch for "Acacia Road" to be held at Sterling College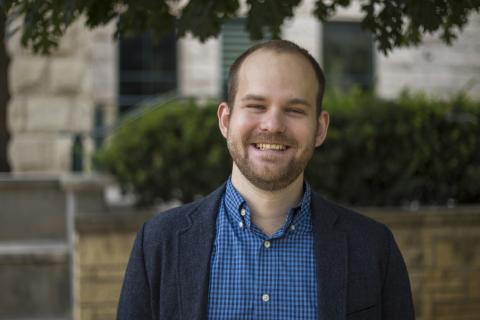 A book launch party for "Acacia Road," written by Aaron Brown, Sterling College assistant professor, will be held on March 27 at 5 p.m. in the gallery of the College's Art and Media Center. Brown will read excerpts from his book shortly after 5 p.m. He will have books available for purchase and signing at the event.
"The poetry collection 'Acacia Road' explores my memories from growing up in Chad [Africa] and the years afterward – memories of dislocation and belonging, friendship and war. These poems navigate what it means to be a child of many countries and multiple continents, while exploring themes of trauma and transnational identity," said Brown.
Brown's parents did medical humanitarian work in Chad for ten years. Their time in Africa came abruptly to an end as the crisis in neighboring Darfur and a proxy war with Sudan fueled a civil war in Chad, and Brown came face to face with this war in 2008 when hundreds of rebel trucks attempted and failed to oust President Deby in Chad's capital, N'Djamena, a battle resulting in mass casualties and decimated neighborhoods. Brown's family was evacuated to Gabon and then to France, where he spent months waiting to return. He moved back to the United States to attend Wheaton College and later to complete an M.F.A. from the University of Maryland.
Through Silverfish Review Press, "Acacia Road" won the 2016 Gerald Cable Book Award, an award given for an author's first full-length book. Brown has previously published a chapbook, "Winnower," and a novella, "Bound." His new book, "Acacia Road," speaks to the experience of children raised in a culture other than their parents' culture for a significant part of their formative years.
"More than anything, I am excited to share these poems with readers and hope they will connect with the book itself," said Brown. "I hope this book draws attention to the great work we do in the Language and Literature Department here at Sterling."
"Acacia Road" will be available during the book launch and at writing and literature conferences hosted by the Association of Writers and Writing Programs and through the Modern Language Association. It will also be distributed by Small Press Distribution at www.spdbooks.org.
Sterling College is a Christ-centered, four-year college located in Sterling, Kansas, with a mission to develop creative and thoughtful leaders who understand a maturing Christian faith. For more information, visit www.sterling.edu.