Bosch and Turner Earn Teacher of Promise Award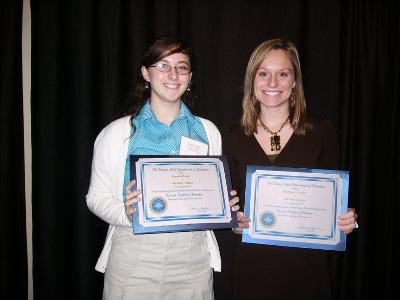 Juniors Lynette Bosch of Wichita, Kan., and Kaitlynne Turner of Washington, Kan., have been named Teachers of Promise by the Kansas State Department of Education.
Bosch and Turner, both enrolled in the Sterling Teacher Education Program at Sterling College, received their award at the Kansas Exemplary Educators Network Conference in Topeka, Kan. on Feb. 23-24. Recipients are selected by their college or university on the basis of character, dedication and achievement.
Each spring, two students who are one semester away from entering their clinical teaching experience are selected by their school's education department to attend the KEEN Conference in Topeka, hosted by the Kansas State Department of Education. During the two-day conference, students learn about state concerns for education as well as innovative teaching styles and strategies. Sterling College chooses their candidates based on both academic performance and the professional dispositions emphasized in the teacher education program.
"I was thrilled to have Kaitlynne Turner and Lynette Bosch represent Sterling College at the KEEN Conference. Kaitie and Lynette both exhibit the professional, IDEAL attributes of integrity, dependability, effective communication, appropriate attitude and leadership that we expect from our STEP candidates," said Terri Gaeddert, STEP director and licensure officer. "They have demonstrated competence in their coursework and field experiences and have received high ratings from both professors and public school teachers."
Art education major, Turner, said, "As an art teacher, I hope to encourage and inspire my students. I want them to be able to take creative risks and think outside the bubbles on a Scantron test. This conference encouraged me as a future educator simply by being around and hearing from some of the best teachers we have currently."