Boyd, Hall honored for 20 years of service to Sterling College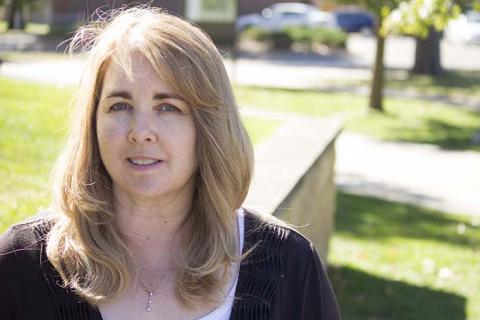 Bruce Boyd and Michelle Hall completed 20 years of service to Sterling College and were honored at the annual Kickoff Banquet on Thursday, Aug. 8.
Boyd is an adjunct lecturer in music for the College specializing in strings and guitar. He has over twenty years of experience as a strings teacher in the Hutchinson Public Schools, working at the elementary, middle school and high school levels. He has also served as a strings coach for the Hutchinson Regional Youth Symphony. Boyd has done clinic and adjudication work around the state of Kansas and served on the Kansas American String Teacher's Association Board.
Boyd holds a master's degree in string pedagogy from the University of Cincinnati College-Conservatory of Music. As a violist he has played with the Friends University Orchestra, the Wichita Metropolitan Summer Orchestra and the Newton Symphony Orchestra. In addition, he has played for many area musicals and oratorios and has performed with the Hutchinson Symphony and the Rhapsody String Quartet.  
Hall serves as controller of the business office. As controller, she is in charge of human resources at the College as well as the audit and financial functions.
"Michelle is one of the most dedicated employees I have come across. Sterling College has seen great transformation take place due to her many years of service. She has a strong commitment to get the job done and is a very hard worker. She is always willing to assume responsibility when there is a role that needs to be taken care of. We are extremely grateful for Michelle's commitment to Sterling College," said Scott Rich, president.
Hall is a second-generation alumni of the College and graduated with a B.S. in Business Management.
Sterling College is a Christ-centered, four-year college located in Sterling, Kan., with a mission to develop creative and thoughtful leaders who understand a maturing Christian faith. For more information, visit www.sterling.edu.
Cutline: Pictured Michelle Hall, not pictured Bruce Boyd