Brownback, Hopper to Speak at Commencement Activities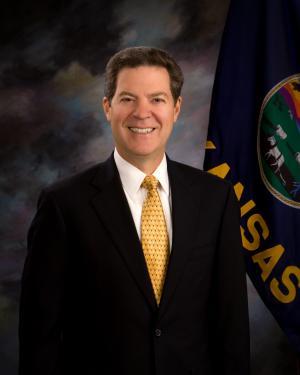 The 2012 Commencement ceremony is Saturday, May 12 at 9:45 a.m. on Cooper Lawn on the Sterling College campus. Kansas Governor Sam Brownback is the speaker for the Commencement ceremony.
Rev. Robert Hopper of Orlando, Fla., is the speaker for the 2012 Baccalaureate ceremony, which will take place Friday, May 11, at 7:30 p.m. in Culbertson Auditorium on the Sterling College campus. Both events are open to the public.
Brownback was inaugurated into the governorship in January 2011. His elected public service began in 1994, when Brownback joined the United States House of Representatives. Two years later, Kansans elected him to the United States Senate seat once held by Bob Dole. After serving two terms in the Senate, Brownback pledged not to seek reelection in 2010.
During his terms in the Senate, Brownback championed the fight against international and national sex trafficking. After traveling to Sudan, North Korea and Nepal, Brownback sponsored the Trafficking Victims Protection Act in 2000 along with Sen. Paul Wellstone of Minn. Prior to the enactment of this law, no comprehensive federal law existed to protect trafficking victims or prosecute their traffickers. Brownback continued to pursue the issue throughout his career in the Senate and is now working on the issue in the state of Kansas. He is expanding the Kansas Human Trafficking Advisory Board, suggesting that Kansas University start a human trafficking research center, and encouraging people concerned with the issue to take the time to visit affected areas and speak with victims.
Brownback and his wife, Mary, have been married for 28 years. They live in Topeka and have five children - Abby, Andy, Liz, Mark and Jenna. Since their own adoption experience, the Brownbacks have helped establish the Building Families Fund to assist Kansas families with adoption expenses.
Baccalaureate speaker, Rev. Hopper was recently named the interim pastor at Eastminster Presbyterian Church in Wichita, Kan. His official duties will begin on Sunday, May 13. Prior to coming to Wichita, Hopper pastored Pioneer Presbyterian Church in Ligonier, Penn., planted a new congregation in Williamsburg, Va., and was the senior pastor of North Park Evangelical Presbyterian Church in Pittsburgh, Penn. The Hoppers are committed to serving congregations who are experiencing transition, but their long term focus is to serve the Lord in Russia.
Hopper and his wife Tacey met at Grove City College in Grove City, Penn. They both graduated from Gordon-Conwell Seminary in Charlotte, N.C. They have three children and eight grandchildren. Their daughter Jessie and her family teach English in Asia, and their sons Seth and Luke are in the military.