Business Students Qualify for Phi Beta Lambda Nationals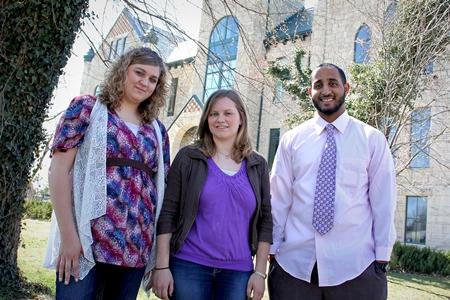 Six months after the formation of Sterling College's chapter of Phi Beta Lambda, three of its members will make their way the PBL National Leadership Conference in San Antonio, Texas, in June, where students from across the country will compete by putting their business knowledge to the test.
Phi Beta Lambda is the collegiate division of Future Business Leaders of America.
Sterling College sent six students to the PBL Spring State Leadership Conference on March 2-3 at Cowley College in Arkansas City, Kan. To earn their places at the national competition, junior Emily Messick of Lyons, Kan., finished third place on the accounting principles test, junior Sened Tesfay of Chicago, Ill., took second on the international business test, followed by senior Chelsy Troyer of Glade, Kan., in third place.
"I am very pleased with the participation and engagement of the students," said Timothy Thorpe, assistant professor of business and Sterling's PBL advisor. "If anything, this is a reflection of their self-motivation. We hope to grow and build on the success of these students."
The purpose of PBL is to develop future business leaders through training and education. Earlier in the academic year, the students participated in two other PBL events. They traveled to Little Rock, Ark. to participate in the National Fall Leadership Conference, which helps prepare chapters for the coming academic year by providing workshops on how to build a stronger chapter, and the Fall State Leadership Conference in Emporia, Kan. Messick, Tesfay and Troyer were joined at each conference by senior Lauren Brown, of Sterling, Kan., senior Caitlin Magee, of San Leandro, Calif., and freshman Erica Wilt, of Hutchinson, Kan. SC competed in accounting principles, international business, marketing concepts, management concepts, word processing and business decision making.
"PBL is a great way to network and provides an opportunity to bring recognition to the department. It allows us to add to our resumes and personal accomplishments while we represent the school. Nationals will only build on that," said Tesfay.