Calderwood, Finley accepted to KU Scholars in Rural Health Program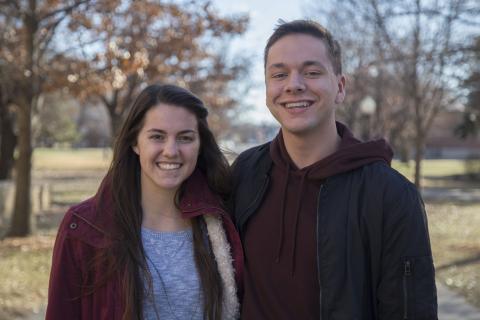 Thursday, December 21, 2017
Two juniors at Sterling College have been accepted into the Scholars in Rural Health Program through the University of Kansas School of Medicine. Kristen Calderwood of Ulysses, Kansas, and Matt Finley of Emporia, Kansas, are both guaranteed admission to the KU School of Medicine upon graduation from Sterling College.
"I have had the pleasure of having Matt and Kristen in my chemistry class this past semester. They both demonstrated the resolve and hard work necessary to succeed in the demanding field of rural medicine," said Dr. Randi Wise, assistant professor of chemistry. "Kristen's talent and desire to further her knowledge serves her well in gaining a deeper understanding of particularly difficult topics. Matt is extremely driven and asks insightful questions; a quality that is vital in the inquisitive nature of the medical field. It is clear to me that if Matt and Kristen maintain the current level of scholarship demonstrated in their classes here at Sterling, they will both have a bright future in the field of rural medicine."
As part of the Scholars in Rural Health Program, students spend 40 hours per semester shadowing a physician in a rural location. Calderwood has been at the Sterling Medical Center working with Dr. Stacy Dashiell and Dr. Kristina Darnauer.
"It's an honor to get into [the Scholars in Rural Health] program as well as a huge weight off of my shoulders! I want to work in a small town so I can get to know the people I'm helping better than just having a patient/doctor relationship. I also want to have a specialty in obstetrics so I can deliver babies in the town I work in," said Calderwood.
Calderwood is on the Sterling College volleyball team and track team, serving as the female representative for the College on the KCAC Student-Athlete Leadership Team. She is also a member of the Donut Club at Sterling College. She is a Legacy Student, having both parents and grandparents who attended Sterling.
At Sterling College, he is involved in Ministry Teams and the chapel band, Future Science Professionals of America and is a member of the Donut Club. He is also a resident assistant in Douglas Men's Residence.
"I chose Sterling College because I really enjoy the small class sizes, especially when it comes to the sciences. I also appreciate the Christian atmosphere and the enthusiasm of the professors who teach here," said Finley.
Finley has been shadowing Dr. Roger Klein at the Lyons Medical Center and Hospital District #1 of Rice County.
"Currently, the path I am most interested in is definitely family practice. I would also like to look more into internal medicine, but as of now I am open to any primary care related field," he said.
Now that Calderwood and Finley are in the Scholars in Rural Health Program, they must complete their degree from Sterling, fulfill the KU School of Medicine prerequisites, maintain college and premedical science GPAs of 3.50 or greater, have a satisfactory score on the MCAT examination, and uphold the high ethical and behavioral standards required of medical students and physicians. They will also fulfill 200 hours of shadowing, written assignments and participate in annual meetings.